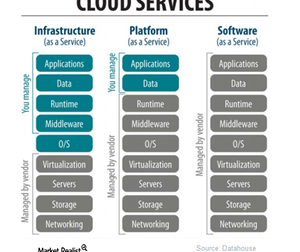 Data Storage Industry Transitions to Cloud Storage
By Puja Tayal

Updated
What is cloud storage?
Cloud technology has revolutionized the data storage industry by making stored data accessible through the Internet. The cloud is a shared network of computers that allows users and companies to store and process data on third-party data centers. At the core, the cloud is a data center with storage hardware and software running on that hardware. Cloud hosting firms manage and maintain these data centers and offer three levels of services based on the client's requirements:
IaaS (infrastructure as a service)
PaaS (platform as a service)
SaaS (software as a service)
Article continues below advertisement
Adoption of cloud
The benefits of cloud are driving its adoption among enterprises. The IDC estimates that the share of cloud in total IT spending would rise from 28% in 2014 to 45% in 2019. The MarketsandMarkets report expects the global cloud storage market to grow from $18.87 billion in 2015 to $65.41 billion by 2020, growing at a compounded annual rate of 28.2%.
Tech leaders acquiring cloud startups 
Increasing adoption of cloud has prompted technology leaders to aggressively step forward in this space by acquiring startups. In 2014, EMC acquired four cloud startups, namely Twinstrata, Maginatics, Spanning, and Cloudscaling. In 2015, IBM acquired Blue Box, Cisco acquired Piston Cloud, Microsoft acquired cloud security firm Adallom, Oracle acquired marketing cloud company Maxymiser, and HGST acquired Amplidata.
While tech leaders gobbled up small cloud startups, startups like Box and Cloudera made their way into the cloud market. Box went public in January 2015 and Cloudera raised $900 million in funding in 2014.
Market leaders in cloud
According to Synergy Research Group, Amazon Web Services (AMZN), Microsoft (MSFT), IBM (IBM), and Google (GOOG) dominate the global cloud infrastructure service market, accounting for over 50% of the market share. Cloud-based companies are spending on data centers. The IDC estimates that over 30% of storage arrays, servers, and ethernet switches were sold to cloud-based businesses in 2014.
To gain exposure in cloud leaders, you can invest in the PowerShares QQQ Trust, Series 1 ETF (QQQ). QQQ has 4.92% exposure to Amazon, 7.06% to Microsoft, and 4.25% to Google.