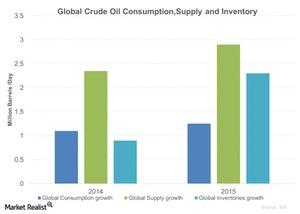 Crude Oil Production Outpaces Consumption Growth
By Manu Milan

Sep. 16 2015, Published 10:24 a.m. ET
Growing crude oil inventories
According to the EIA (U.S. Energy Information Administration), continued growth in global production of petroleum and other liquids has outpaced consumption growth since August 2014. This has resulted in rising global liquid stocks.
Total global liquids inventories are estimated to have grown by 2.3 MMBD (million barrels per day) through the first seven months of 2015. It was the highest level of inventory builds through July of any year since 1998.
These strong inventory builds have put significant downward pressure on near-term crude oil prices. North Sea Brent crude oil spot prices have averaged $58 per barrel through July 2015 compared to $109 per barrel over the same period in 2014, responding to growth in global inventories.
Article continues below advertisement
The EIA estimates that global consumption of petroleum and other liquids grew by 1.1 MMBD in 2014, averaging 92.4 MMBD for the year. Through July 2015, global liquids consumption has grown by an additional 1.2 MMBD. Global production of petroleum and other liquids has been higher, growing by 2.3 MMBD in 2014 and averaging 93.3 MMBD for the year. It increased by an estimated additional 2.9 MMBD through July 2015.
EIA forecasts moderate oil inventory builds in the coming months
In the August Short-Term Energy Outlook (or STEO) report, the EIA forecast that falling crude oil production in the United States in response to lower oil prices will help moderate oil inventory builds in the coming months. This will lead to slightly higher-than-expected prices.
The pace of inventory accumulation is expected to slow from more than 2.0 MMBD currently to 1.5 MMBD in the fourth quarter of 2015. It's expected to drop below a 1.0 MMBD build in 2016. Expectations for this trend to continue should be reflected in increasing Brent crude oil spot prices. They're forecast in the STEO to increase from an average of $51 per barrel in the fourth quarter of 2015 to an average of $59 per barrel in 2016.
Growing inventories benefit crude tanker industry
With the rise in demand for petroleum products, the demand for crude oil and gasoline rises. This is beneficial for the crude tanker industry. A rise in inventory levels also benefits transportation and crude tankers. The EIA has forecast an upward trend for total products supplied in its STEO outlook report.
This upward trend in the inventory level is beneficial for companies like Frontline (FRO), Euronav (EURN), Nordic American Tanker (NAT), Teekay Tankers (TNK), DHT Holdings (DHT), Tsakos Energy Navigation (TNP), and the Power Shares DB Oil ETF (DBO).