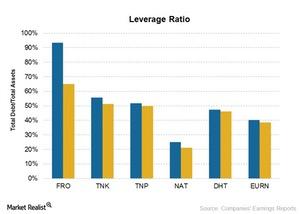 Frontline Has Highest Leverage among Peers
By Sue Goodridge

Sep. 30 2015, Published 6:48 p.m. ET
Leverage ratio
Shipping companies are capital intensive, so looking at the financial leverage for these companies is of utmost importance for investors. The debt-to-asset ratio is an indicator of the financial leverage of the company. This ratio tells us the percentage of assets financed by debt and indicates the financial risk of the company. A higher ratio means higher financial leverage.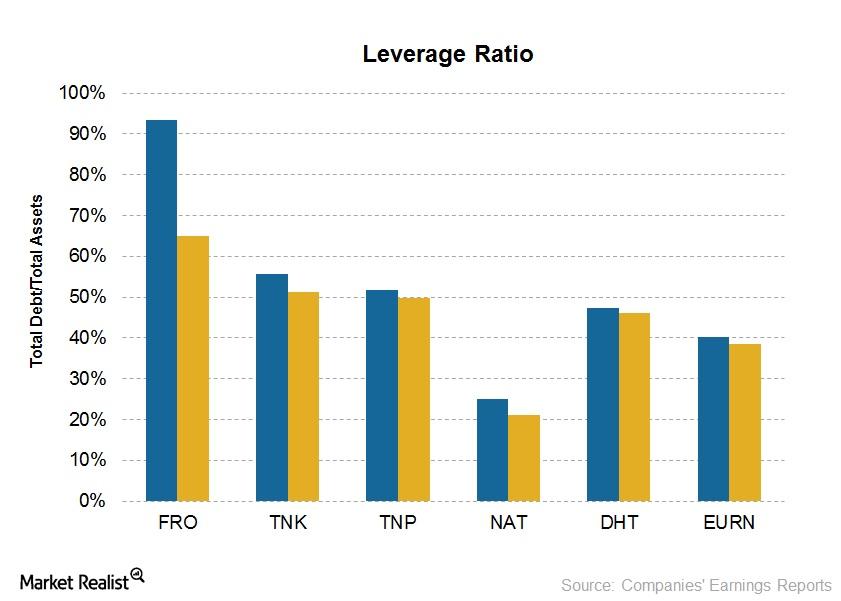 Article continues below advertisement
Comparing companies' leverage 
Compared to the first quarter, each and every company has a lower debt-to-asset ratio. Frontline (FRO), which had an alarming debt-to-asset ratio of 93%, restructured its balance sheet in the second quarter, bringing down its ratio to 64%. Frontline issued equity as well as repaid debt, which reduced its long-term debt by $321 million. These moves have strengthened the company's solvency ratio. However, Frontline still has the highest debt-to-asset ratio among its peers.
Teekay Tankers (TNK), Tsakos Energy Navigation (TNP), DHT Holdings (DHT), and Euronav (EURN) have a debt-to-asset ratio of 51%, 50%, 46%, and 38%, respectively. DHT Holdings (DHT) has issued convertible bonds that are due in 2019. If bondholders exercise the conversion option and convert bonds into equity, it would negatively impact the share price of the company. The decrease in financial leverage would affect the upside potential of its stock price.
Nordic American Tanker's (NAT) management claims to have a unique business model that maintains a low financial risk. Since inception, the company has successfully maintained low debt levels and strong solvency ratios. The company has the lowest ratio in the industry of 21%.
Article continues below advertisement
Implications of debt levels
Debt acts as a lever, magnifying both gains and losses. Companies that have high debt in difficult times have a higher chance of going bankrupt. Also, share prices of these companies are more volatile. However, high leverage can also be positive if those companies do survive. Debt has a fixed cost and with an increase in revenue, the profits increase by a higher percentage.
Effect on investors
Looking at the capital structure, Frontline (FRO) is the riskiest company compared to its peers. Its investors will demand a higher return on capital. Frontline's (FRO) high leverage has made its stock quite sensitive to short-term changes in crude (DBO) tanker shipping rates, and the company's stock performance has been the most volatile in the last year.