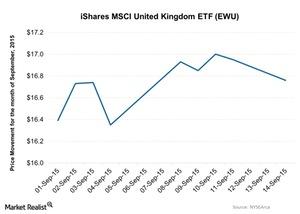 Chinese Economic Report Pressures the UK Market on September 14
EWU fell by 1.12%
September 14, 2015, was a gloomy day for the UK stock market as well, as the iShares MSCI United Kingdom ETF (EWU) fell by 1.12%. Out of EWU's 109 constituent stocks, only 21 stocks rose on the day.
Below is the graph depicting the price movement for the iShares MSCI United Kingdom ETF (EWU) during the month. We can see the dip in EWU that occurred over the weekend.
Article continues below advertisement
Key UK stocks of the day
The top three stocks of EWU were Investec (INVP), Arm Holdings (ARMH), and BHP Billiton (BHP). These stocks returned 2.03%, 1.50%, and 1.04%, respectively, on September 14. BHP was upgraded to "buy" by the analysts at Jefferies, and the company is said to have low operational and geopolitical risk. According to Jefferies, BHP offered a 7.7% dividend yield, supported by strong free cash flow generated by low-cost assets.
Arm Holdings (ARMH) stocks surged owing to strong iPhone sales on the first weekend from key customer Apple (AAPL). ARMH designs microprocessors and sells development tools that enhance the performances of the embedded applications. The stock also received recommendations from Morgan Stanley. The company has a cash balance of 904 million pounds on its balance sheet and forecasted a generation of 3.5% cash flow yield in 2016, which could rise to 6% in 2020. The other major stocks to register gains on September 14 were Diageo (DGE), BT Group (BT), Rio Tinto (RIO), and Carnival (CUK).
The stocks at the bottom were WM Morrison Supermarkets (MRW), Glencore (GLEN), and Antofagasta (ANTO). These stocks yielded -4.48%, -4.41%, and -2.47%, respectively, on September 14.
China's slowdown and the potential rate hike at Fed meeting pressures the UK market
The Fed's September 16–17 meeting gives no strong clues to the probable decision, creating volatility in the UK market on September 14. The weekend saw the release of economic reports on China's factory production and fixed assets investment.
According to the report, August's figures were weaker than expected, which leads to the belief that the slowdown in China can be worse than expected. This report has affected the Eurozone countries with exposure to the Chinese economy. Such a scenario impacted the UK stock market on Monday, September 14.
For more analysis on emerging economies such as China, please read Emerging Economies: Will They Slow Down or Bounce Back?