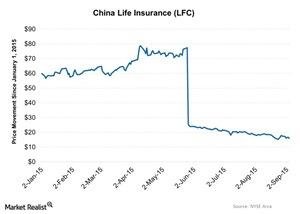 China, with the World's Largest Forex, Decreases Its Reserves in the World Economy
By Renee Blakely

Updated
Forex reserves of China
China's major reserves are in the US dollar in the form of US government bonds and institutional bonds. Two-thirds of China's reserves are dollar-denominated assets, whereas one-quarter of its reserves is euro-denominated. Globally, two-thirds of international trade transactions are settled with US dollars. Therefore, the majority of forex reserves in the world are in US dollars.
In international trade, as the imports of a country increases, its reserves too should increase in proportion. It's widely believed that a country's central bank should maintain forex reserves equivalent to three months of imports. But in the case of China, its forex reserves are equivalent to imports of nearly two years, which gives us an idea of the vastness of China's reserves.
In June 2014, the forex reserves of China were around $4 trillion, excluding reserves held by the territories of Macau and Hong Kong, which are not independent countries.
Most recently, China's forex reserves went down by $93.9 billion. China still had $3.56 trillion at the end of August.
Article continues below advertisement
China made the move to cut down its forex reserves in order to support the depreciating yuan. The graph below depicts the year-to-date movement of the one of the constituent stocks of the iShares China Large-Cap ETF (FXI), which reflects the condition of a large-cap Chinese company, China Life Insurance (LFC), in the equity market.
Since June 2015, financial services sector stocks of companies like China Life Insurance (LFC), Sun Life Financial (SLF), HSBC Bank (HSBC), and CitiBank (C) of China have been adversely affected. The Chinese government's most recent interventions came as a result of conditions arising in the Chinese stock market.
In the next and final part of this series, we'll look at more reasons behind the fall in China's reserves.