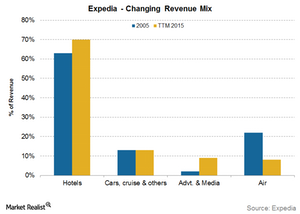 Changes to Expedia's Revenue Mix over the Years
By Ally Schmidt

Updated
Hotels
At 70% of gross revenue, hotel bookings form the most crucial division of Expedia's portfolio of services. It's the fastest growing and the most profitable division, as it has margins of above 20% as compared to others in the single digits. The contribution of hotel service revenue has grown from 63% of total revenue in 2005 to 70% as of mid-2015.
This has been possible due to Expedia's aggressive acquisition of properties to add to its portfolio. The company has added nearly 27,000 properties to its global supply portfolio in the second quarter of 2015, bringing its total to about 257,000 properties.
However, with the rising discomfort in hotel chains about sharing revenues with OTAs and the increasing competition between OTA companies, these margins could face downward pressure in the future.
Article continues below advertisement
Car rental, cruise, and other services
Car rental, cruise, and destination services have not seen any change in the past decade and still account for 13% of Expedia's total revenue. Of late, the company has been expanding further into these services, and it now has dozens of car rental agencies under its banner.
The segment is expected to expand into the neighboring areas of New York, Orlando, Los Angeles, San Francisco, Atlanta, and Seattle in the future.
Airline bookings
Although airline bookings make up about half of Expedia's gross bookings, the revenue generated is only about 8% due to very low ticket prices. The segment is highly competitive and mostly suffers from overcapacity, which leads to lower occupancy rates. The revenue contribution of the product line has also fallen from 22% a decade ago to 8% today.
Advertising
This is one of the newest and fastest-growing revenue contributors for the company. The revenues generated from advertising and media have grown from 2% in 2005 to about 9% at the end of the second quarter of 2015, primarily due to the acquisition of Trivago.
Trivago is one of the leading meta-search engines for hotel bookings in Europe, with over 600,000 hotels and 140 booking sites across 30 countries. As the global economy improves, the advertising expenditures of travel-related companies will increase, and Expedia can expect to see growth in this area.
Expedia competes with major online travel companies such as Priceline Group (PCLN), Ctrip (CTRP), Orbitz (OWW), Travelzoo (TZOO), and TripAdvisor (TRIP). Expedia makes up 0.52% of the Consumer Discretionary Select Sector SPDR (XLY).