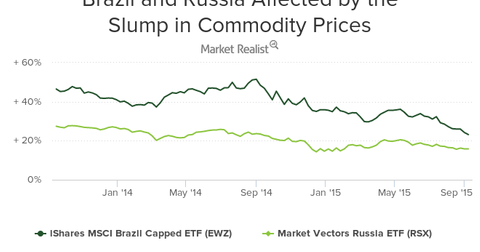 Bill Gross Discusses Financial Imbalances Hindering Global Growth
By Surbhi Jain

Updated
Growth drivers: Commodity-based and non-commodity-based
Bill Gross of Janus Capital talked about certain financial imbalances that are currently hindering global growth. He specifically points to differences that are quite evident and causal in creating such imbalances in the global economy.
There are certain economies that are heavily dependent on commodity exports. So, a drop in the value of commodities directly impacts growth and progress in such countries.
[marketrealist-chart id=657997]
Article continues below advertisement
Brazil and Russia
Brazil is heavily dependent on commodity exports of iron ore, crude oil, soybeans, and sugar while Russia is heavily dependent on oil exports—comprising 39% of its exports.
In fact, the whole of the former Soviet Union region is heavily dependent on commodity exports. For example, 88% of Azerbaijan's exports are oil; 81% of Turkmenistan export revenues are from natural gas; 15% of Uzbekistan's exports are accounted by cotton; Ukraine's biggest export is iron, accounting for 9% of its total exports; potash accounts for about 6% of Belarus exports; and Kyrgyzstan relies heavily on gold, accounting for 34% of its total exports.
With the slump in commodity prices and the economic slowdown in China, a major commodity consumer, growth has been restricted. Brazil is recording negative growth, with the iShares MSCI Brazil Capped ETF (EWZ) down over 50% over the past year. Export revenues of Brazilian commodity producers like Petrobras (PBR) and Vale (VALE) have taken a hit.
Similarly, the VanEck Vectors Russia ETF (RSX) is down over 30% in the past year, with stock values of oil giant Gazprom (OGZPY) and Rosneft (OJSCY) down with the slump.
Differences in demographics, debt levels, and policy
There were other factors that Gross also pointed out:
Demographics: The median age of the population is 27 years in India, 37.6 years in the US (SPY), and 46 years in Germany and Japan.
Debt levels: Japan's debt is 230% of its GDP (gross domestic product) and Saudi Arabia is at 1.60%. UAE is at 16.70%, the UK at 89.40%, Eurozone at 91.90%, and the United States is at 102.98%.
Regulation and policy: The key rate in Brazil is 14.25%, the Eurozone is at 0.05%, and China is at 4.60%. The US remains zero lower bound at 0%–0.25%.
Highlighting the differences in the real economy, Bill Gross emphasizes that the world needs "major global policy shifts—all in the same direction."
Recently, an IMF (International Monetary Fund) study highlighted the role of imbalances in limiting global growth. "Countries with large current-account surpluses such as China and Germany need to boost domestic demand to help correct imbalances that are limiting global growth," said the IMF.
These differences lead to competitive behavior between countries, as is evident in the currency war we will discuss next.