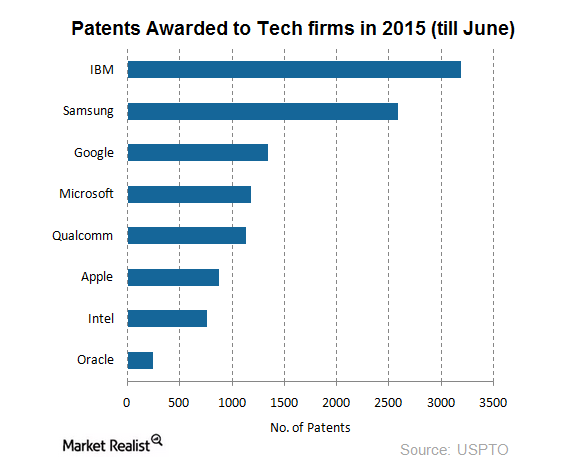 Z13 Systems Are Integral to IBM's Mainframe Growth
By Anne Shields

Nov. 20 2020, Updated 5:21 p.m. ET
Z13 was instrumental to IBM's mainframe growth
Previously in this series, we discussed that IBM's (IBM) system hardware was the only operating segment that reported positive growth. It got a boost due to growth in POWER 8 processors and z Systems. This is positive news because it has been some time since IBM got to report any positive growth on the hardware front.
In 2Q15, IBM's z Systems mainframe server products' revenue grew 9% on a YoY (year-over-year) basis. In constant currency terms, the growth was 15%. Z Systems recorded 130% growth in fiscal 1Q15. This massive growth in z Systems revenue can be attributed to the fact that customers deferred purchases in anticipation of z13 product launches. As a result, when the product was launched in January 2015, it saw huge growth.
Article continues below advertisement
Although IBM has strategically divested its server unit and semiconductor operations, it continues to rely on the mainframe. Its most recently launched z13 is claimed to be specifically designed for today's increasingly mobile economy. In July 2014, IBM showed its keenness in the mobile space by entering into a partnership with Apple (AAPL). Under this partnership, IBM created business apps for iPhones and iPads.
As the above chart shows, IBM received the most patents in 2015. In the technology space, Microsoft (MSFT), Google (GOOGL), and Qualcomm (QCOM) also made the top ten list.
Z13 is integral to IBM's shift towards cloud
IBM's mainframes have supported Linux. Now, it supports OpenStack—a popular open-source cloud computing platform. It means that a private cloud can run directly on a mainframe. Also, its z13 System can support up to 8,000 Linux virtual machines simultaneously. IBM claims that running a private cloud comes with a 49% lower TCO (total cost of ownership) on z13—compared to a private cloud running on an array of Intel (INTC) servers. In June 2015, IBM acquired Blue Box. It provides private cloud-as-a-service that's based on OpenStack technology.
IBM stated that along with a $1 billion investment, it has invested five years and collaborated with more than 60 clients to bring z13 to the market. Z13 improved the processor speed. According to the company, it has the ability to process 2.5 billion transactions per day. This enables it to cope with the huge amount of data. It also provides real-time encryption and analytics to customers who are looking for a platform that can handle the information gathered by numerous connected and mobile devices.
If you're bullish about IBM, you can invest in the Technology SPDR ETF (XLK). XLK invests 3.51% of its holdings in IBM.