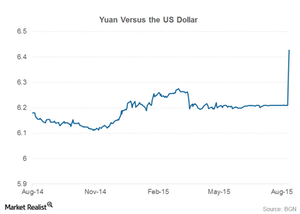 Does the Yuan's Devaluation Mean an Upswing for Gold?
By Meera Shawn

Updated
Gold surged on safe-haven call
Last week, gold once again displayed its safe-haven appeal as China chose to devalue the yuan, raising concerns about global economic stability. On Friday, August 14, gold touched a high of $1,120.40 per ounce and a low of $1,111.10, settling at $1,112.70 per ounce.
Following China's unexpected currency move, precious metals surged for the week and ended on a positive note, with the exception of silver. Gold, platinum, and palladium gained on returns on a five-day trailing basis, although silver saw a minimum loss. However, the positive notes for US retail sales may result in a positive outcome for the much-anticipated interest rate hike by the Federal Reserve, which in turn may be adverse for gold's status as a safe-haven commodity.
Article continues below advertisement
Will China cut gold imports?
Fear has gripped global markets regarding further devaluation of the yuan (CNY) by China. Markets had turned volatile as precious metals surged and the equities markets slid, pushing investors away from riskier assets. Reduced gold imports due to the weaker yuan could also affect the precious metals markets.
The recent disclosure by the People's Bank of China (or PBOC) of 1,658 tons of gold reserves with the central banks remains satisfactorily low compared to the expectation of financial experts. If the PBOC's disclosure indicated that China had more than 1,658 tons of gold, gold prices would have likely surged. More gold with Chinese central banks would indicate that China could be trying to back its currency with gold, which could add to other countries' discomfort and push gold prices north.
The following chart shows the yuan's performance during the last year.
Platinum and palladium performance
Precious metals performed well last week. The trailing five-day return for gold, silver, platinum, and palladium stood at 1.02%, -0.54%, 0.52%, and 1.695%, respectively. An upward swing in prices also trimmed the 30-day trailing losses of the metals. Spot platinum on Friday, August 14, closed at $994 per ounce, and spot palladium closed at $617.50 per ounce.
The SPDR Gold Shares ETF (GLD) traded flat on August 14 and had a five-day trailing return of 2.1%. In comparison, silver ETFs performed better. For example, the iShares Silver Trust (SLV) gained 3.12% on a five-day trailing basis.
Mining companies Iamgold Corp. (IAG), Kinross Gold Corp. (KGC), and New Gold Inc. (NGD) gained 14.10%, 6.45%, and 11.33%, respectively, on a five-day trailing basis. These stocks together contribute 6.15% to the VanEck Vectors Gold Miners ETF (GDX).