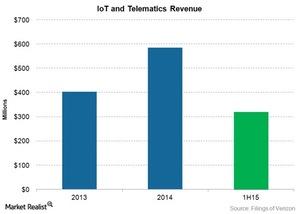 Verizon Maintains Internet of Things Is a Growth Driver
By Ray Sheffer

Updated
The Internet of Things: A fast-growing but small revenue source at Verizon
During the Oppenheimer 18th Annual Technology, Internet & Communications Conference, David Small, Verizon (VZ) Wireless's COO, spoke about one of the company's growing revenue segments. He said, "Yes, so machine to machine or Internet of Things, we think there's great opportunity there."
Verizon's IoT, or Internet of Things, and Telematics revenue increased ~6% sequentially to ~$165 million in 2Q15.
On a very basic level, IoT consists of devices and things that are connected to a network through which data can be transferred and received. And these devices and things can be managed and monitored remotely.
Some of key sectors for Verizon's IoT applications include transportation, energy, and healthcare.
Article continues below advertisement
As we can see in the above chart, although IoT and Telematics is a growing segment, it's still small in terms of revenue. In 2014, Verizon's IoT and Telematics revenue was ~$585 million. Verizon generated consolidated revenue of ~$127 billion during the year. And according to the company, IoT is a relatively high-margin business.
Solid growth expected in IoT connections
The potential of IoT in the medium-to-long term is indeed significant, particularly in the US (SPY). Based on Cisco's (CSCO) Visual Networking Index mobile forecast, machine-to-machine modules that are mobile-connected are expected to increase at an average annual growth rate of ~45.5%. This would bring the global total to 3.23 billion between 2014 and 2019. In the US, growth is forecast at a higher average annual rate of ~65.8% for the same period.
Instead of investing in Verizon stock, you may consider diversified exposure to Verizon by investing in the iShares Russell 1000 ETF (IWB). This ETF had ~0.9% exposure to the wireless carrier on July 31, 2015. On the same date, AT&T (T), Sprint (S) and T-Mobile (TMUS)—the other top US wireless carriers—made up a total of ~1.1% of IWB.