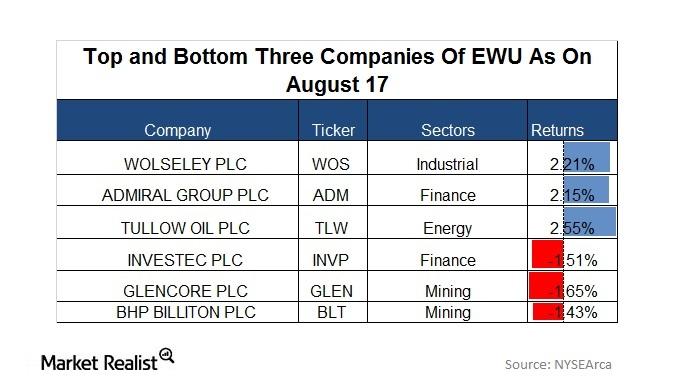 Utilities and the IT Sector Shine on August 17
Key EWU stocks on August 17
The iShares MSCI United Kingdom ETF (EWU) yielded -0.60% as of August 17. Wolseley (WOSCF), Admiral Group (AMIGF), and Tullow Oil (TUWLF) were among the top performers on August 17. Investec (IVTJF), Glencore (GLCNF), and BHP Billiton (BHP) were among the bottom three players.
The utility sector was upbeat. Four out of five stocks rose on August 17. Similarly, the industrial sector, healthcare sector, IT (information technology) sector, and consumer discretionary sector showed positive returns.
The following graph shows EWU's sector-wise performances.
Article continues below advertisement
The telecommunication sector is stable with its two stocks—Inmarsat (IMASF) and Vodafone (VOD). They settled at prices well above their 100-day, 50-day, and 20-day moving averages. Similarly, although the industrial sector was trading at lower volumes compared to the past week, stocks like Cobham (CBHMY), Persimmon (LSEAX), Wolseley (WOSCF), EasyJet (EJTTF), and Capita (CTAGF) are all trading above their moving averages.
The information sector stock ARM Holdings (ARMH) is also trading above moving averages. Sector-wise, the utility sector did well in the past week. Four out of five stocks rose on August 17, 2015. The stocks stood even in the tough financial times. Slower Chinese growth is having a major impact on exports from the United Kingdom. The yuan's devaluation is also expected to impact the exports. The mining and material sector and the energy sector are impacted heavily. For these sectors, the recovery is uncertain and long awaited.
For more on the Eurozone, read Eurozone's Industrial Production Fell in June: HEDJ Fell 2.30%.