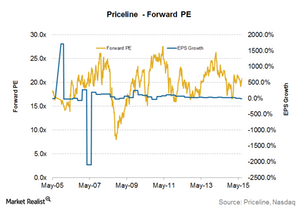 Is Priceline's Stock Too Expensive?
By Ally Schmidt

Dec. 4 2020, Updated 10:52 a.m. ET
Priceline's valuation
Priceline (PCLN) was established in 1997. It went public in 1999. The company's stock prices quickly doubled. However, by the end of 2002, its fortunes turned around and its stock lost all of its value. The company underwent a reverse stock split in 2003 in order to improve its stock price.
More than a decade later, the company has successfully evolved into a global leader in online travel by expanding through some smart acquisitions. Priceline's stock has shown a whopping 5,190% growth in the past decade. It beat the returns from any other player in the industry.
Article continues below advertisement
Even though it has a huge price tag, the company has a PE (price-to-earnings) ratio of ~29.92. This is below or comparable to its lower-priced competitors like Expedia (EXPE) at 20.6 and TripAdvisor at 53.77. However, its forward PE multiple of 21.8 is lower than Expedia's 26.8, TripAdvisor's (TRIP) 33.7, and Ctrip's (CTRP) 48.1. This indicates Priceline's limited growth potential.
However, it's forward EV/EBITDA (enterprise value to earnings before interest, tax, depreciation, and amortization) multiple of 17.6 is higher than Expedia's 12.2 and Sabre's (SABR) 10.5. However, it's lower than TripAdvisor's 19.3 and Ctrip's 53.3.
Priceline forms 2.77% of the Consumer Discretionary Select Sector SPDR (XLY).
Shareholder-friendly activities
Priceline doesn't offer any cash dividends on its common stock since it prefers to retain future earnings to finance the expansion of its business. While a dividend is a company's way to reward investors, Priceline is a relatively young and emerging company. Its decision to reinvest its earnings into business is a sound decision.
Even though Priceline doesn't pay dividends, the company does use part of its cash reserves to buy back stocks. The company announced a $3 billion share buyback program earlier this year. It would help the company improve its EPS (earnings per share).
Even though the company doesn't pay dividends, it has a strong growth potential in terms of business and revenue. This is a huge positive for investors considering Priceline's huge size and scale.