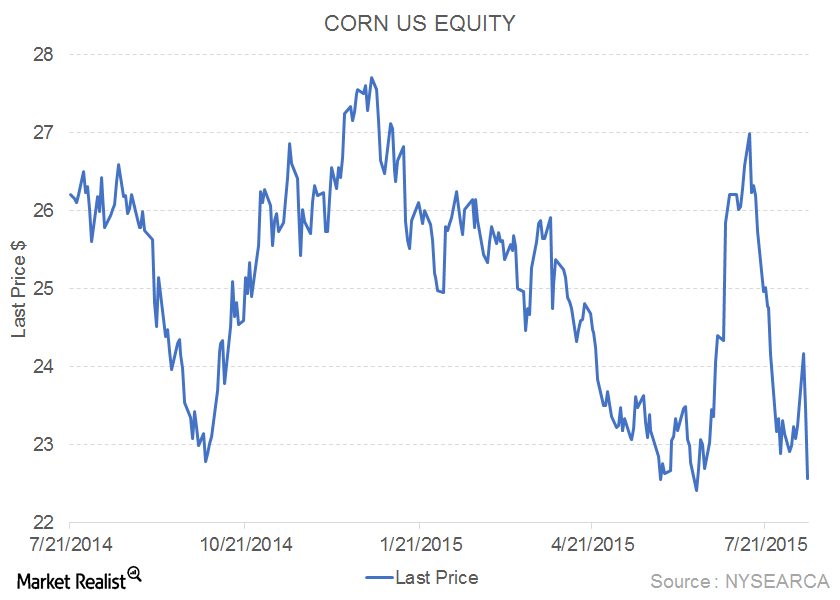 Oversupplied Corn Market Plunges on Monthly USDA Report
Corn prices decline sharply
CBOT (Chicago Board of Trade) corn futures contracts for December delivery fell on the second consecutive day by 5.11% and settled at $3.57 per bushel. With this fall, corn registered its highest decline in the last 29 days.
The 2% Chinese currency devaluation and the USDA's (US Department of Agriculture) better-than-expected harvest report on Wednesday resulted in the major sentiment of supply increase in the oversupplied market. The harvest report outperformed the corn futures expectation by a substantial margin. The commodity market reacted sharply to the news and slid at a sharp rate. ETFs like Teucrium Corn Fund (CORN) traded 3.83% lower in line with CBOT's corn price movement on August 12.
Corn yield exceeded the estimates and remained near the high end of expectations. Corn production was reported at 13,686 billion bushels with an average yield of 168.8 bushels per acre, which is 156 million bushels and two bushels higher than trend-based projections, respectively.
USDA's projection for harvested corn per acre remained at par with the July report at 81.101 million. The USDA projection for domestic stocks at the end of 2015 is 1.713 billion bushels. The projection has increased from 1.599 billion in July, above the high end of trade forecasts.
China is the second largest producer of corn. The report of the devaluing yuan will increase comfort for Chinese corn exporters. Thus, supply in the international market is expected to remain high, keeping pressure on prices.
The above chart suggests that reduced levels in the long-term trend indicate the downward channel continuation in the short run. Corn prices fell 11 days out of last 20 days. In terms of the year-to-date performance, corn on CBOT remained 0.14% down.
Article continues below advertisement
How are oversupply concerns affecting stocks and ETFs?
The VanEck Vectors Agribusiness ETF (MOO), which has 80.5% of its holding in North American stocks, touched a $52.75 low and remained at par with its previous close on August 12. ETFS Commodity Securities Limited Daily Short Corn was down 0.57%.
Lower corn prices have a positive impact on agricultural product users. Archer Daniels Midland Company (ADM) and Syngenta (SYT) were up 1.78% and 0.12%, respectively. However, Agrium (AGU) declined 1.59%.