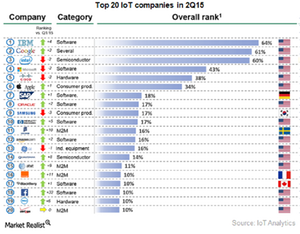 Intel's Must-Know Internet of Things Strategy
By Puja Tayal

Updated
Connecting to the connected world
In the previous part of this series, we learned that Intel (INTC) is reducing its reliance on personal computing by diversifying into the data storage and the IoT (Internet of Things) spaces. In this part, we'll try to understand how the company plans to stand out in the IoT space using technologies from its other business segments.
Gartner estimates that the number of devices connected to the Internet will increase 30% year-over-year to 4.9 billion in 2015 and that this number will reach 25 billion by 2020. More connected devices will generate more data, which in turn will require more data storage devices. This is why enhanced data processing capabilities are becoming more important.
As seen in the above graph, IBM (IBM) overtook Intel in the IoT space and now sits in the top position in 2Q15. IBM got to the top after announcing its plan to invest $3 billion in IoT over the next four years.
Article continues below advertisement
Intel's Internet of Things strategy
Intel has all of the elements to make a mark in the IoT space. The company designed its x86 processors for wearable devices to compete with Qualcomm's (QCOM) ARM chips that dominate the embedded device space.
Intel has also partnered with data analytics company Cloudera to boost the adoption of Hadoop, an open-source framework that enables storing and processing of big data across multiple computers. Greater adoption of Hadoop will increase the demand for servers, where Intel is a dominant player and is still growing thanks to the acquisition of Altera (ALTR).
Intel's Internet of Things platform
According to a survey by IoT Nexus, the two biggest challenges faced by the IoT sector are interoperability—a system's ability to connect and exchange data with other systems—and security. Intel's IoT platform seeks to address these issues by using a combination of its Quark processors and several hardware and software support services. Quark processors are compatible with 32-bit Intel architecture solutions and are also interoperable with old systems.
You can get exposure to Intel by investing in the First Trust NASDAQ Technology Dividend ETF (TDIV). Intel makes up 7.18% of TDIV.