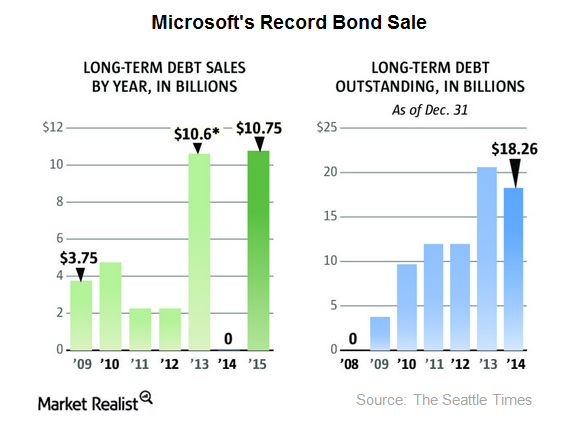 Microsoft's Cash, Debt, and Cash Flow Position in 4Q15
Cash, debt, dividends, and cash flow
In 4Q15, Microsoft's (MSFT) cash reserves stood at $96.5 billion. It generated operating cash flow worth $5 billion, as compared to $8.2 billion in 4Q14. Microsoft's total debt as of 4Q15 increased to $35.3 billion, up from $30.14 billion in 3Q15. In the last couple of quarters, Microsoft's debt has risen. The company has incurred high debt primarily to fund dividends and share buybacks.
Article continues below advertisement
Cash parked overseas exposes Microsoft to macroeconomic challenges and currency fluctuations
According to a Bloomberg report published in March 2015, Microsoft, Apple (AAPL), Google (GOOG), and five other technology firms account for more than 20% of "the $2.1 trillion in profits that US companies are holding outside the US."
This explains why Microsoft issued a bond worth $10.75 billion in February 2015—so that it could defer taxes as dividends and pay for share buybacks. As the majority of its cash is parked outside the US, it has to resort to bond issuance to borrow for dividends and buybacks. But this leaves the company exposed to the vagaries of currency fluctuations, including a strengthening US dollar (UUP).
Microsoft's peer Oracle (ORCL), too, issued six-part $10 billion notes in April 2015 to fund dividends and share buybacks.
Dividend and buyback program
In 4Q15, Microsoft announced a cash dividend of $0.31 per share to its shareholders. The company spent $4.28 billion to repurchase shares and approximately $2.5 billion to pay dividends to its shareholders in 4Q15. In total, Microsoft returned $6.7 billion to shareholders, an increase of 96% on a YoY (year-over-year) basis. In 2Q15, Microsoft announced its plans to conclude the existing $40 billion share buyback program by December 2016.