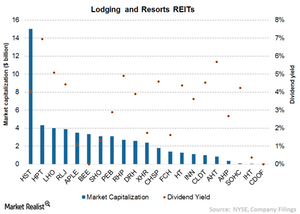 Lodging and Resorts REITs Are into Cyclical Business
By Peter Barnes

Aug. 31 2015, Updated 9:05 a.m. ET
Overview of lodging and resort REITs
Lodging, resort, and hotel REITs primarily own but don't operate hotel and resort properties. Lodging REITs consist of hotel properties with a number of brands. Generally, hotel properties aren't managed by REITs. They outsource it to a third-party operator. This is because IRS (Internal Revenue Service) rules governing REITs impose strict limitations on the income and activities of REITs that are in conflict with hotel ownership and operation.
Article continues below advertisement
Hotel REITs aren't directly allowed to perform many services related to the management or operation of the hotel property or business because income from these services is considered "unrelated business income." Because of this regulation, lodging REITs have to set up a TRS (Taxable REIT Subsidiary) that generates income from the hotels. Then, the TRS pays the REIT.
Highly cyclical business
Lodging and resort REITs are in a highly cyclical business. Room rates and occupancy levels are highly volatile in nature. They depend on a number of factors. In addition, a hotel's occupancy level is short term. This results in an unstable income stream for hotel REITs. In addition, hotel assets incur continuous operating expenses for the upkeep and maintenance of the property. This dents their margins.
Major companies
There are 21 REITs in the lodging and resorts sector with a combined market capitalization of $60 billion. They account for 6.70% of the total REITs market capitalization. Host Hotels & Resorts (HST) is the largest hotel REIT with a market capitalization of $15 billion. It's followed by Hospitality Properties Trust (HPT) with $4.3 billion and LaSalle Hotel Properties (LHO) with $4 billion. The average dividend yield of the lodging REITs was 3.24% as of June 2015. Hospitality Properties Trust provided the highest dividend yield in the sector at 6.94%.
Investors looking for diversification in the REIT sector can get exposure in REIT ETFs like the Vanguard REIT ETF (VNQ), the iShares U.S. Real Estate ETF (IYR), and the iShares Cohen & Steers REIT ETF (ICF).