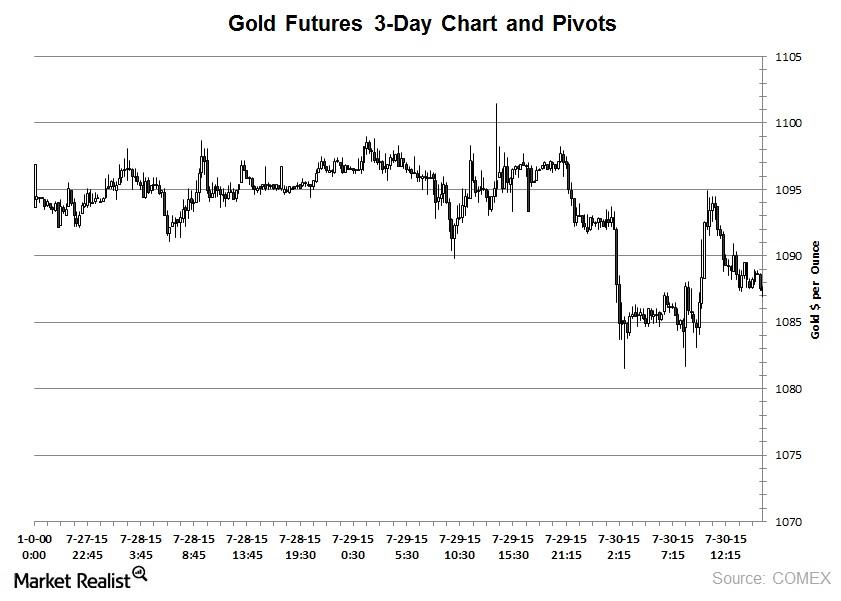 Gold Rises as the Dollar and Employment Cost Index Fall
Looking beyond the bear
After the renowned bearish sentiment for gold, we saw a little hope on July 31, 2015. Physical gold and silver sales accelerated. Gold futures for August delivery rose by 0.60%. Silver also had an up-day and increased by 0.33%. Platinum and palladium fell on a down-day and slipped by 0.49% and 1.56%, respectively.
Article continues below advertisement
Federal Open Market Committee in play
The FOMC, in its policy statement, said it will likely increase the interest rate. When? remains the question. The FOMC stated that the rate hike will depend on improvements in the labour markets and the inflation outlook. With the ECI (Employment Cost Index) rising by a mere 0.16% from an expected 0.6%, concerns about the possible September interest rate hike emerged. The lower ECI (Employment Cost Index), coupled with the declining dollar (DXY), may have diminished the chances of a lift-off in the near term. So gold rose to $1,103 per ounce and settled at $1,095 on Friday. The chart above explains gold's performance over a three-day period.
Miners show mixed performance
The SPDR Gold ETF (GLD) lost close to 0.31% on Friday. Similarly, the VanEck Vectors Gold Miners ETF (GDX) lost 0.87% and the VanEck Vectors Junior Gold Miners (GDXJ) lost 0.78%. Some mining companies showed a sign of relief as their share prices rose. These companies included Semafo (SMF), Alacer Gold (ASR), and Detour Gold (DGC).
Most miners saw a down-day. Gold Fields (GFI) and Harmony Gold Mining (HMY) were among the biggest losers on GDX, losing 5.62% and 3.01%, respectively.