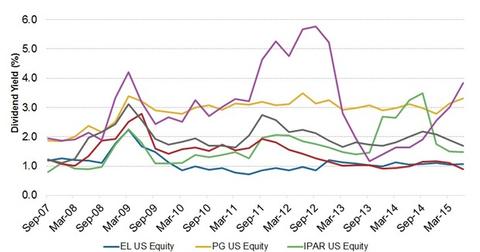 Estée Lauder's History of Paying Dividends
By Penny Morgan

Updated
Dividend payment overview
Estée Lauder (EL) is one of those consumer staples (XLP) companies that believes in dividend payments. The company has paid dividends ever since it went public in November 1995. Estée Lauder's cash dividends per common share fell 27.8% to $0.78 in fiscal 2014[1. Year ending June 30, 2014] compared to $1.08 in fiscal 2013. This decrease was due to the transition to quarterly dividend payments from annual dividend payments in 3Q13. As a result of this transition, total cash dividends paid per share in fiscal 2013 equaled six quarterly dividends. Hence, dividends paid in fiscal 2014 were lower compared to fiscal 2013.
Article continues below advertisement
Estée Lauder's dividend payout versus that of peers
Estée Lauder's dividend payout for the trailing 12 months came in at 25.0%. In comparison, peers L'Oréal (LRLCY), Inter Parfums (IPAR), and Beiersdorf (BDRFF) had dividend payout ratios of 54.1%, 50.4%, and 30.1%, respectively. EL's payout ratio is lower that that of peers because the company believes in retaining cash to finance growth in core product categories and expand distribution channels.
Estée Lauder's plans are designed to maximize long-term strength, growth, and profitability. EL believes that this longer-term growth focus will benefit the company and its shareholders.
Share repurchases
EL also has a share repurchase program authorizing the company to repurchase up to 216.0 million of its own shares. During nine months ending March 31, 2015, the company purchased approximately 7.7 million shares for $572.7 million pursuant to its share repurchase program.
Currency impact
Despite adverse foreign currency impacts, diluted EPS (or earnings per share) rose 30% to $0.71 in 3Q15 compared to $0.54 in 3Q14. However, EPS grew 49% in constant-currency terms in 3Q15. EL will be declaring 4Q15 earnings on August 17.
Procter & Gamble's (PG) adjusted EPS grew 8% in reported terms and 22% on constant-currency terms to $1 in 4Q15. To learn more about PG's latest earnings release, read "P&G Beats 4Q15 Earnings Estimates, Missed on Sales."
Estée Lauder expects EPS to come in between $2.92 to $2.97 in fiscal 2015, after adjusting for the impact of currency translation.
EL has exposure in the SPDR S&P 500 ETF (SPY) with 0.1%[2. Updated August 7, 2015] of the total weight of the portfolio.