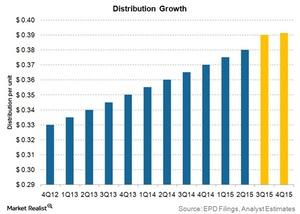 Enterprise Products Partners Increased Its Distributions in 2Q15
By Rekha Khandelwal, CFA

Aug. 10 2015, Updated 5:05 p.m. ET
Enterprise Products Partners' distributions
On July 7, 2015, Enterprise Products Partners (EPD) declared a 1.30% quarter-over-quarter rise in its distributions to $0.38 per unit. The company's distributions per unit rose for the 44th quarter in a row. The consensus estimate for Enterprise Products' per unit distribution for all of 2015 is $1.54. This is a 6% rise over the actual distributions in 2014.
The above graph shows growth in the company's quarterly per unit distribution. It also shows the consensus per unit distribution estimates for 3Q15 and 4Q15. Enterprise Products Partners forms 9.70% of the Alerian MLP ETF (AMLP). Both AMLP and the ETRACS Alerian MLP Infrastructure Index ETN (MLPI) track the Alerian MLP Infrastructure Index (AMZI).
Article continues below advertisement
Declining distribution coverage
Enterprise Products generated $988 million in DCF (distributable cash flow) for the second quarter. Its distribution coverage ratio for the quarter is 1.3x. Its distribution coverage for 1Q15 was 1.4x. The distribution coverage is the ratio of distributable cash flow to total distributions.
Enterprise Products' distribution coverage ratio fell from 1.7x in 1Q14. The ratio was 1.86x, 1.52x, and 1.51x in 2012, 2013, and 2014, respectively. Distribution growth without comparable growth in cash flow likely caused the fall. Lower energy prices have impacted Enterprise Products' cash flows.
Generally, MLPs with stable earnings target a distribution coverage ratio in the range of 1–1.1x the distributable cash flow. In contrast, MLPs whose operations are more sensitive to seasonal factors target a higher coverage ratio.
Distribution yields
Enterprise Products trades at a distribution yield of ~4.90%. Energy Transfer Partners (ETP), Sunoco Logistics Partners (SXL), and Williams Partners (WPZ) trade at current distribution yields of ~7.40%, ~4.40%, and ~6.40%, respectively. One of the reasons for Enterprise Products' relatively lower distribution yield might be its distribution coverage ratio. Its distribution coverage ratio is well above 1x. This makes it relatively less risky. Enterprise Products Partners' distributions have grown for 44 consecutive quarters. This also explains its comparatively lower yields.
Yields tend to be higher for MLPs that have less predictable earnings or a high commodity price risk. A higher risk must be compensated for with higher yields. Western Gas Partners (WES) and EQT Midstream Partners (EQM) trade at dividend yields of 4.80% and 3%, respectively.