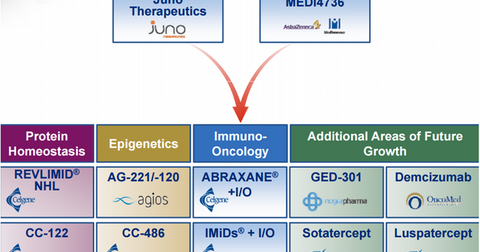 Celgene Fortifies Its Drug Pipeline with Major Collaborations
By Margaret Patrick

Updated
Major collaborations
In addition to its recent Receptos acquisition, Celgene Corporation (CELG) has strengthened its drug pipeline through collaborations with companies like AstraZeneca (AZN) and Juno Therapeutics (JUNO). Other Celgene collaborations involve companies such as Agios Pharmaceuticals (AGIO), Epizyme (EPZM), Bluebird Bio (BLUE), Forma Therapeutics (FORTHEP), Lycera Corporation (LYCERAP), and MorphoSys AG.
The above graph shows that Celgene has also collaborated with MedImmune, a subsidiary of AstraZeneca, and Juno Therapeutics to develop novel drugs in the immuno-oncology market. Additionally, Celgene is exploring several major compounds, some of which they are developing in collaboration with companies like Acceleron Pharma (XLRN) and OncoMed Pharmaceuticals (OMED).
Article continues below advertisement
Juno Therapeutics
In June 2015, Celgene entered into a ten-year collaboration with Juno Therapeutics to develop drugs for the treatment of patients with cancer and autoimmune diseases. This agreement involves a payment of $1 billion to Juno Therapeutics in exchange for the company's 9.1 million shares.
Unlike Celgene's oncology or cancer products, which are mainly chemotherapy drugs, Juno focuses on developing cellular immunotherapies to cure cancer. These therapies genetically transform the patient's T cells, a type of white blood cell active in the body's immune functions, enabling them to identify and kill the cancer cells. Differing in the manner of recognizing and destroying cancer cells, Juno's developing technologies include CARs (chimeric antigen receptors) and TCRs (T cell receptors).
According to the collaboration agreement, Celgene can choose to be the North American commercialization partner for Juno's CAR-based drugs, CD19 and CD22. Additionally, both companies can together develop and commercialize some of Celgene's TCR-based drugs. Given Juno's expertise, it is expected that Celgene's cellular therapy research could generate blockbuster drugs. Peers such as Pfizer (PFE) and GlaxoSmithKline (GSK) are also active in exploring TCR-based therapies for curing cancer.
MedImmune
In April 2015, Celgene entered into a collaboration agreement with MedImmune for developing a cancer drug called MEDI4736, which is based on a novel technology targeting blood-related cancers. The deal involved an upfront payment of $450 million to MedImmune, and the collaboration is expected to strengthen Celgene's cancer portfolio even further.
Investors can get diversified exposure to drugs obtained by Celgene through collaborations by investing in the iShares NASDAQ Biotechnology ETF (IBB). Celgene makes up 8.66% of IBB's total holdings.