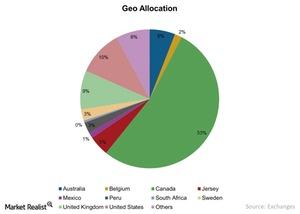 VGPMX Is a Mutual Fund with an Alternative Strategy
By Ivan Kading

Updated
VGPMX is an alternative mutual fund
The Vanguard Precious Metal and Mining Investment Fund (VGPMX) is an alternative investment fund that invests at least 80% of its assets in foreign and US stocks. Most of the fund's portfolio consists of companies that are engaged in the exploration, mining, marketing, and distribution of gold, silver, platinum, diamonds, or other precious and rare metals.
As the name implies, alternative (or alt) mutual funds seek to accomplish the fund's objectives through non-traditional investments and trading strategies. Alt funds might invest in assets such as global real estate, commodities, leveraged loans, startup companies, and unlisted securities that offer exposure beyond traditional stocks, bonds, and cash. VGPMX mainly invests in mining and precious metal companies, but it also has some exposure to the chemical and environmental sectors. Currently, its assets under management are valued at $1.93 billion.
Article continues below advertisement
Low expense ratio
M&G Investment Management manages VGPMX, and its fund manager is Randeep Somel, who has more than ten years of experience as a senior analyst and is a CFA Charterholder. Although traditional alternative mutual funds have higher expense ratios than their normal counterparts, they aggressively manage their fund by mimicking various hedge funds' strategies.
Alt funds that invest in commodities have lower expense ratios. VGPMX's annual expense ratio is 0.29%, which is 79% less than the average expense ratio of its peer funds.
Mutual fund with an alternative style
VGPMX's investment objective is to seek long-term capital appreciation. Currently, 92% of its net assets are invested in equities. The rest of the 8% is being held as cash and cash equivalent.
The fund was founded on May 17, 1984, and it has outperformed its benchmark S&P 500 Index (SPY) only on a very few occasions. Its peers include alternative equity precious metal funds such as the First Eagle Gold Fund (SGGDX) and the US Global Investors Gold & Precious Metals Fund (USERX). BHP Billiton (BHP), Goldcorp (GG), and Royal Gold (RGLD) are some of the major holdings of VGPMX. Together these companies represent 19% of the fund's net assets.