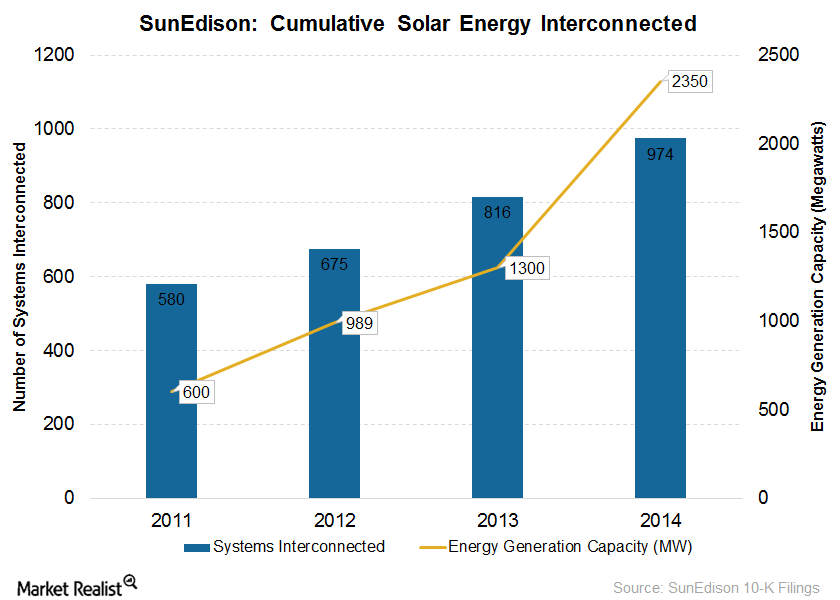 SunEdison's Solar Energy Business: Strategy and Cost Control
By Saania Malik

Sep. 1 2020, Updated 9:48 a.m. ET
Segment strategy
SunEdison aims to keep its solar power assets on its balance sheet. This is a two-fold strategy, allowing commercial customers to only pay for the output generated by systems installed on their property, avoiding the extensive upfront payments typically involved with power plants. This also enables customers to counter the price volatility of conventional energy because they can generate electricity in daylight hours, which is also when prices are highest.
Keeping assets on its balance sheet also provides SunEdison with the opportunity to drop the assets to its yieldco, TerraForm , discussed later in this series.
Article continues below advertisement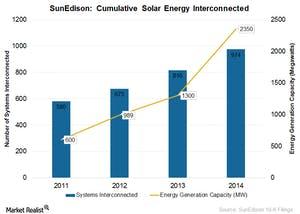 Restructuring
SunEdison has been through significant restructuring since MEMC's acquisition of SunEdison LLC. While its strategic aim is to provide a diversified product mix based on industry demand, the company has struggled with profitability during this restructuring.
Despite the strong growth in interconnected solar energy capacity, segment revenues have not followed the same trends, as shown in Part 3 of this series. In addition to volatile revenue, costs have increased significantly over the last few years. So what has been driving these costs and keeping the company from realizing positive earnings?
Article continues below advertisement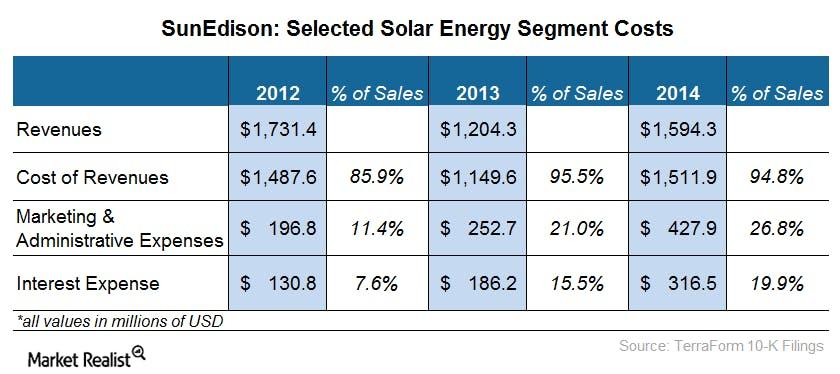 Segment costs
The cost of revenues has accounted for a significant proportion of sales for the past five years. The Solar Energy segment has had the lowest gross margin, about 5%, for 2013 and 2014. Depreciation expenses from increasing solar projects retained on the balance sheet have been driving this cost.
Segment operating margin was -19% in 2013 and -28% in 2014. The largest cost item has been marketing and administration expenses (over 20% of segment sales). Interest expense increased significantly from 2013 to 2014, from $186 million to $317 million. Margins decreased further to -35% and -48% after accounting for these expenses.
But is this a sign of inefficient operations and the inability to manage costs? Canadian Solar (CSIQ), another industry operator that is concentrating its efforts on expanding into the downstream market, earned higher margins and positive profits from its total solutions business, discussed more fully in Canadian Solar's Downstream Business and Expansion. The company's overall operating margin was 7.9% in 2013 and 12.4% in 2014.
However, much of the increase in expenses for SunEdison can be attributed to growth initiatives—the IPOs of its two subsidiaries and acquisitions of companies like First Wind. But it remains to be seen if the growth in grid-connected solar power will turn earnings around in the coming years.