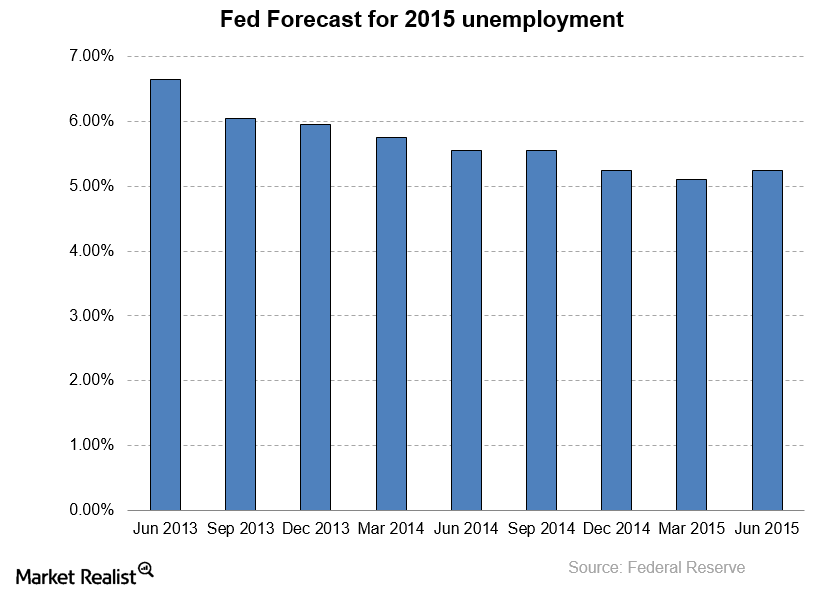 In Spite of Falling Unemployment, the Fed Lifts Its Forecast
The Fed's forecast for unemployment changes
After the June FOMC meeting, the Fed forecast that 2015 unemployment would come in at 5.2%–5.3%, an increase from the 5.0%–5.2% forecast at the March meeting. While the Fed generally tightens the range of forecasts as it works through the year, the Fed has now tightened and raised the range. This is somewhat surprising since the BLS (Bureau of Labor Statistics) unemployment rate has generally been trending down, going from an average of 5.67% for the first quarter to 5.4% for the second quarter.
Article continues below advertisement
The Fed took down its forecast for GDP (gross domestic product) growth for the balance of the year, and the unemployment forecast may be reflecting that. The bigger question is whether the Fed is taking up unemployment because it thinks the economy will be soft or because the labor force participation rate will increase. The minutes don't say.
Unemployment has been falling, although it's been driven by a decline in the labor force participation rate. Wage growth has been ever so slightly higher than inflation. The lagging indicators are signaling no major improvement in the labor market.
Leading indicators of the labor market, however, are flashing bright green. Weekly initial jobless claims have been hitting consistently below 300,000, a level normally associated with boom-time levels. Job openings, as measured by JOLTS (Job Openings and Labor Turnover Survey), are also at boom-time levels. These data indicate the job market is in a transition period and about to accelerate. That said, it has been like this for a while, which could mean there are structural issues in the labor market.
Implications for mortgage REITs
Wage inflation is probably the biggest indicator the Fed is concerned with at the moment. Once it starts seeing evidence of wage inflation, it will start hiking rates. It may do so even before seeing wage inflation. This would be negative for mortgage REITs such as Annaly Capital Management (NLY) and American Capital Agency (AGNC). On the other hand, wage inflation is good news for non-agency REITs like Chimera Investment (CIM) that take credit risks.
Even if long-term rates stay supported by overseas weakness, increases in short-term rates mean higher borrowing costs. This will lower net interest margins and could put pressure on dividends.
Investors who want to trade interest rates directly should look at the iShares 20+ Year Treasury Bond ETF (TLT). Investors who are interested in trading the real estate sector as a whole should look at the iShares Mortgage Real Estate ETF (REM).