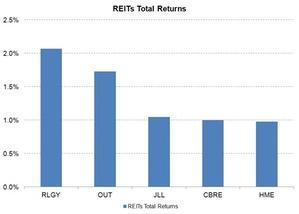 Real Estate Remains Weak but Rents Rise Faster than Inflation
By Arthur Penn

Nov. 20 2020, Updated 12:25 p.m. ET
IYR's market capitalization
The benchmark iShares Dow Jones US Real Estate ETF (IYR) comprises 114 stocks. We can divide the ETF by market capitalization by considering large-cap stocks as having a market capitalization above $10 billion, mid-cap stocks as having a market capitalization between $2 billion to $10 billion, and small-caps having a market capitalization below $2 billion. Twenty stocks fall under the large-cap group, 82 under mid-cap, and 12 under small-cap.
Large-cap stocks posted a negative return of -2.31%, mid-caps declined by 3.05%, and small-caps declined by 3.11% against the total negative returns of -3.35% for the IYR ETF for the second week of July 2015.
Article continues below advertisement
Small caps will likely fall harder when market risk is on the upswing, as it has been lately. Investors take on the extra risk with the expectation of strong returns when overweighting small caps in their portfolios. Large-cap real estate stocks have shown relative strength, though they also lost value during the week as investors underweighted their real estate exposure.
The top five REITs generating the highest weekly gains in the IYR ETF are Realogy Holdings (RLGY) at 2.07%, Outfront Media (OUT) at 1.73%, Jones Land Lasalle (JLL) at 1.05%, CBRE Group (CBRE) at 1.00%, and Home Properties (HME) at 0.98%.
It's also worthwhile to look at the Vanguard REIT ETF (VNQ), as it has performed well among the equity REIT ETFs.
What do valuation multiples say about REITs' performance?
The average trailing-12-month (TTM) PE multiple for retail REITs is 41.9x. For residential REITs, the multiple is 41.8x. For industrial REITs, it's 31.3x. And for hotel and resort REITs, it's 27.8x. On the other hand, the forward PE multiple for retail REITs is 73.1x, for residential REITs is 62.8x, for industrial REITs is 49.02x, and for hotel and resort REITs is 20.8x. Retail and residential REITs are trading at rich PE valuations compared to the other subgroups because they thrive in an environment of strong property prices. Moreover, residential REITs are currently benefiting from rents that are rising faster than inflation.
Article continues below advertisement
Looking at the price-to-book value, the PB ratio, we see that retail REITs are trading at 3.6x, residential REITs at 2.7x, industrial REITs at 2.1x, and hotel and resort REITs at 2.4x. Again, retail and residential REITs are trading at a higher PB multiple than the other subgroups. The retail REIT valuations may be suspect, as the global trend of switching from brick-and-mortar retail to e-commerce is growing.
Residential REITs are enjoying a tremendous surge in supply-side fundamentals, namely lower vacancy rates, as demand is increasing for housing across the country. Some of the liquid real estate ETFs that invest in CMBS and RMBS are CBL & Associates Properties (CBL), the iShares US Real Estate ETF (IYR), Invesco Mortgage Capital Inc (IVR), Capstead Mortgage corporation (CMO), and Penny Mac Mortgage Investment Trust (PMT).