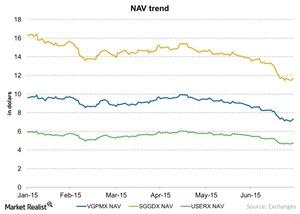 Precious Metal Mutual Funds: A Structural Comparison
By Ivan Kading

Aug. 7 2015, Updated 4:41 p.m. ET
Precious metals market in free fall
The precious metals market is feeling the heat of recessionary trends in the world economy. Almost all stocks in the business of producing, mining, or marketing precious metals are in a downward trend. The market was hit hardest by China's Shanghai Composite Index crash, which was the result of China giving inflated numbers about its gold reserves.
The Vanguard Precious Metal and Mining Investment Fund Investor Shares (VGPMX) is an alternative mutual fund. The First Eagle Gold Fund Class A (SGGDX) and the US Global Investors Gold and Precious Metals Fund (USERX) are two of its competitors in the market. Agnico Eagles Mines (AEM), Royal Gold (RGLD), and Goldcorp (GG) are both in the top ten holdings of both VGPMX and SGGDX. The chart above shows the day-to-day NAV (net asset value) comparison between VGPMX and its peers.
Article continues below advertisement
VGPMX has performed better than peers
All three precious metal funds show a similar downward trend. On January 1, 2015, this is how the funds ranked in terms of initial NAV:
VGPMX: 9.59
SGGDX: 16.3
USERX: 5.91
SGGDX has depreciated the most, while VGPMX and USERX are flat but skewed to the negative. The funds' assets under management are as follows:
VGPMX: $1.93 billion
SGGDX: $811.17 million
USERX: $138 million
Valuation multiples comparison
Within VGPMX, the average price-to-earning ratio (or PE) for the precious metal sector is 19.99. The price-to-cash-flow ratio (or PC) is 3.16, and the price-to-sales ratio (or PS) is 1.70. The SPDR S&P Metals and Mining ETF (XME), which tracks the overall industry, has an average PE, PC, and PS of 23.15, 6.69, and 1.64, respectively.