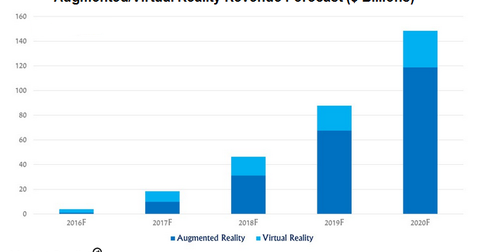 Microsoft Offers 1st Demo of HoloLens Virtual Reality Headset
By Anne Shields

Updated
Microsoft's HoloLens demo shows off Minecraft
At E3 2015, Microsoft (MSFT) provided the first in-depth demo of its HoloLens innovation. Microsoft's HoloLens is an advanced virtual reality headset whose development was announced for the first time during the same event announcing the upcoming release of Windows 10. At the E3 2015 conference, the company showcased a new version of the Minecraft video game, built specifically for the HoloLens VR (virtual reality) headset.
As of October 2014, Minecraft had sold more than 60 million copies, and its charm cuts across traditional demographic lines. So pairing Minecraft with HoloLens is a great initiative that should encourage adoption of the headset. It may also encourage users to experiment with the device.
In the wearables market space, the HoloLens VR headset has generated a lot of interest. Leading technology players including Salesforce.com (CRM), Accenture (ACN), Google (GOOG) (GOOGL), and Intel (INTC) have all launched or are planning to launch various products in this space.
Article continues below advertisement
Virtual and augmented reality touted to be multibillion dollar markets
According to market advisor Digi-Capital, and as the above chart shows, the augmented reality, or AR, and virtual reality, or VR, market is expected to earn $150 billion in revenues by 2020. Of this total, AR is expected to have a $120 billion share, and VR is expected to earn ~$30 billion.
According to a TechCrunch Network article, console games, 3D films, and "niche enterprise users," such as education, military, and medical professionals, make up the core market for VR. Meanwhile, the smartphone and tablet markets are a good match for AR.
HoloLens could be a game changer for Microsoft
HoloLens is slated for release with Windows 10 by the end of 2015. HoloLens is a complete computing platform, so its potential lies in its integration with the Windows 10 ecosystem. As stated previously in this series, Microsoft intends to deploy a single Windows 10 operating system across PCs, tablets, and mobile phones. HoloLens is designed to serve as the comprehensive communications, entertainment, and productivity platform of Windows 10.
Any apps that can run on Windows 10 can easily run on HoloLens. So, any obstacles or hurdles in creating a developer ecosystem are removed.
The success of Microsoft's HoloLens may be instrumental in shaping Microsoft's future growth and profitability, particularly as it lags significantly behind its peers—Google, Apple, and Samsung—in the rapidly growing mobile, smartphone, and tablet space.
If you're bullish about Microsoft stock, you could invest in the Technology Select Sector SPDR Fund (XLK), which invests ~9.61% of its holdings in Microsoft.