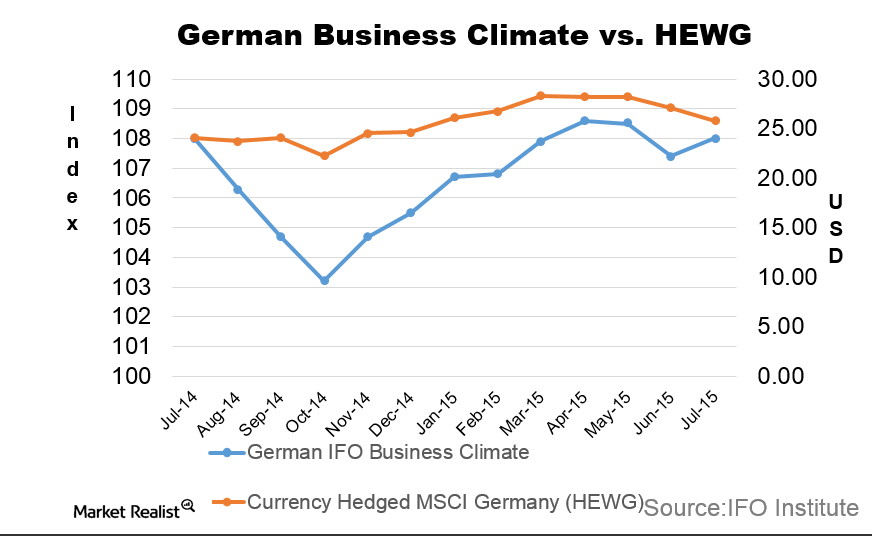 German July Business Climate Index Beats Forecasts
By David Meyer

Nov. 20 2020, Updated 5:31 p.m. ET
IFO business climate
The German IFO Business Climate Index released on a positive note in July at 108 points compared to 107.4 points the previous month. The index was above forecasts with expectations around 107.5 levels.
The index rose after experiencing two consecutive months of decline during the period of non-resultant talks between Greek leaders and the European Union, the European Central Bank, the International Monetary Fund, and other creditors with a Grexit hovering over the table.
An agreement between Greece and its creditors for a third bailout fund provided an upthrust to the index in July, although a clear solution to the problem has still not been written in permanent ink.
Article continues below advertisement
The euro-dollar reaction to the data
Strong economic data drove the euro-dollar pair upward, as the currency pair moves upstream against fundamental forces, macro-economic indices, and the strengthening US Dollar Index expected to push it down. The uptick in the pair was also supported by central bank interventions in the market by the likes of the Swiss National Bank (SNB) buying euros to pop up the euro-Swiss Franc and the Czech National Bank doing the same to defend its peg with the common currency.
Market impact
The iShares Currency Hedged MSCI Germany ETF (HEWG) fell 2.09% after the release of the event. The WisdomTree Germany Hedged Equity ETF (DXGE) took a similar course when it fell 2.06%. The Deutsche X-trackers MSCI Germany Hedged Equity Fund (DBGR) fell 2.14%.
In terms of German ADRs (American depositary receipts) trading on US exchanges, Deutsche Bank (DB) fell by 1.54%, while SAP SE (SAP) fell by 0.77%. Some of the other European ADRs were also affected, like Alcatel-Lucent (ALU) that fell by 1.10%.