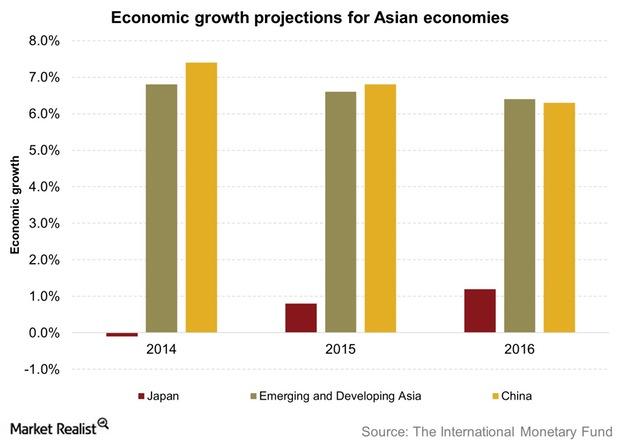 Can China, Japan Give Your Portfolio an Edge?
By David Ashworth

Jul. 24 2015, Published 9:28 a.m. ET
Japan
The year began with investors debating about whether investing in Japan was a viable option. The debate continues, and you can read our assessment of Japan's standing in our series, Is It a Good Time to Invest in Japan? While you make up your own mind, it may help to know that the iShares MSCI Japan ETF (EWJ) has returned over 15% year-to-date. The question is whether it can sustain this rise.
Japan has benefitted from the economic stimulus delivered by Shinzo Abe's government. His administration is now focusing on implementing structural reforms in the economy. For more on this topic, read It's Time for the 'Third Arrow' of Abenomics in Japan.
If structural forms have the desired impact, Japan's economy will return to the growth path in the longer term, and its output will rise more than the 0.8% estimated by the IMF (International Monetary Fund) for 2015.
Article continues below advertisement
China
Japanese equities won't be able to sustain high returns until long-term solutions to structural problems in the economy are found. China has recently been dealing with a similar issue—equities that run up ahead of economic fundamentals are bound to obey the laws of gravity at some point.
China's economic pace is expected to slow, partly because of deliberate measures to cool off certain sectors of the economy that were overheating, and partly because a perennially high growth rate is neither possible nor sustainable.
The correction in Chinese stocks has had a big impact on stocks including E Commerce China Dangdang (DANG), 58.com (WUBA), and 500.com (WBAI). The iShares China Large-Cap ETF (FXI) has also fallen by over 15% in the past 13 weeks, despite a rally in the past few days.
The Chinese economy is expected to slow to a 6.8% pace this year and again, to 6.3% in 2016. Though these estimates are unrevised from those laid out in April, investors would do well to be cautious and scrutinize the macroeconomic factors that are affecting China.
Next, let's look at India and the ASEAN-5 (defined by the IMF as Indonesia, Vietnam, the Philippines, Malaysia, and Thailand) region.