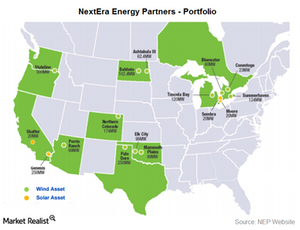 A 1Q15 Review of the Spin-Off, NextEra Energy Partners
By Mike Sonnenberg

Updated
NextEra Energy Partners
In June 2014, NextEra Energy (NEE) spun off NextEra Energy Partners, LP (NEP) through an IPO (initial public offering). NEE is part of the Utilities Select Sector SPDR ETF (XLU), with 8.6% weight. NEP is a yieldco, which acquires operational projects from NextEra Energy Resources (or NEER) and third parties.
For more information on yieldcos and NEP, you can read the Market Realist series Green Yieldcos: A Primer on Tax-Efficient Investing. Note that NEP's results are consolidated with NEER. But we're discussing them separately because NEP is traded publicly, and its operations are segregated.
Article continues below advertisement
1Q15 operating performance
NEP generated $74 million in revenues in 1Q15 by generating 908 GWh (gigawatt hours) of electricity. The company sells electricity through long-term power purchase agreements. Since the majority of NEP's asset base consists of wind power, operating expenses were limited to $16 million, or 21.6% of sales.
Depreciation and amortization as well as interest expenses came in at $23 million, or 31.1% of sales each. NEP reported net income of $9 million during the quarter. The company generated $15 million in operating cash flows.
Investments
Investments play a major role for yieldcos. It's the only way to increase the quarterly dividend payment without taking up substantial project execution risk, which is the unique selling proposition for yieldco stocks.
NEP spent $42 million on capital expenditure in 1Q15 and another $292 million on acquisitions. Following are the acquisitions NEP made during the first quarter.
January 2015 – acquisition of 250 MW (megawatt) wind project located in Palo Duro, Texas, for $218 million
February 2015 – acquisition of 20 MW under-construction solar project in Shafter, California, for $64 million
Both these projects were acquired from NEER. In May 2015, NEP completed an acquisition of 664 MW wind generating facilities from NEER. The company funded the acquisition through $109 million fresh equity and $313 million in term loans.
NRG Energy (NRG), SunEdison (SUNE), First Solar (FSLR), and SunPower (SPWR) have also floated renewable energy yieldcos to take advantage of the favorable tax treatment.