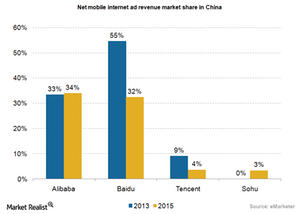 Alibaba Could Overtake Baidu in China's Mobile Ad Market in 2015
By Puneet Sikka

Updated
Mobile traffic plays an important role in China's advertising market growth
In the previous parts of this series, we discussed how advertisements still play an important role in the growth of China's video streaming market. We also discussed how Netflix (NFLX) and Alibaba (BABA) are trying to defy this trend by introducing paid subscription services. However, China's video streaming market is increasingly shifting towards mobile traffic.
According to iResearch China, mobile traffic's contribution to China's video advertising market increased from 20% in 1Q14 to 27% in 1Q15. Alibaba seems to be the main beneficiary of this increase despite still not having a presence in the video streaming market.
According to a report from eMarketer, Alibaba is set to become the biggest player in China's mobile ad market. The report mentions that Alibaba will overtake Baidu (BIDU) in terms of the revenue generated through search and display ads from mobile devices in China (FXI) this year.
Article continues below advertisement
Alibaba could overtake Baidu in China's mobile ad market
The chart above shows that Alibaba will have about a 34% share in China's mobile Internet ad market by the end of this year, compared to Baidu's share of 32.4%. Sohu.com (SOHU) and Tencent Holdings are the smaller players in this market.
Alibaba's overtaking Baidu is a bit of a surprise, considering that Baidu is China's most popular search engine. Plus, as we discussed above, Alibaba isn't even present in the video streaming market. Baidu has made rapid strides over the last few years, and it's the second-largest player, after Google (GOOG), in the global search ad market. Microsoft (MSFT) and Yahoo (YHOO) remain the smaller players in this market.
The major factors behind Baidu's quick growth have been China's rapidly growing Internet user population and Google's ban in China. Google ceased its operations in China in 2010 due to a disagreement with the Chinese government about censorship.