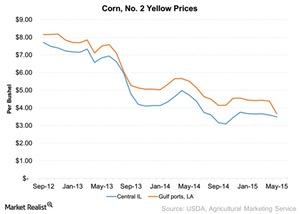 Corn's Downward Trend: What Caused Prices to Fall?
By Adam Jones

Updated
Corn is important
Corn is one of the most important agriculture commodities in the US. In the 2014–2015 season from April to October, the total global production of corn is expected to be about 638 million metric tons. The US tops the global chart for corn production. It's estimated to produce 361 million metric tons. Corn is also the largest crop commodity produced in the US. China is the second largest corn producer. It's expected to produce about 215 million metric tons.
Article continues below advertisement
Corn prices
In the above chart you can see that the corn prices have trended downward. As of June 19, 2015, the prices of corn, No. 2 Yellow, were $3.37 per bushel in central Illinois. No. 2 Yellow corn is a grade that has a minimum weight of 54 pounds per bushel. It has no more than 5% of damaged kernels.
Prices have fallen since 2012, dropping to a low point of $3.09 around September to October 2014. This was because the corn stockpile rose more than anticipated as a result of low feed requirements, according to the Wall Street Journal.
Low corn prices can have a positive impact on companies like Archer Daniels (ADM), Bunge (BG), and The Andersons (ANDE). In 2014, corn products accounted for 10% of Archer Daniels' revenue. The VanEck Vectors Agribusiness ETF (MOO) holds about 6.6% of Archer Daniels and 3.2% of Bunge.
However, low corn prices negatively affect fertilizer companies like Potash (POT) and Mosaic (MOS). When crop prices are low, farmers make less. Farmers will be less encouraged to expand their use of fertilizers because they may not be able to recover their costs.
In April 2015, 4.8 million metric tons of corn was exported. This was a rise of 23% from 3.9 million metric tons exported in March 2015. The total value of the April exports was $0.9 billion.
How's corn used?
In 2014, about 39% of the corn was used for animal feed, while 30% was used as alcohol for fuel. Over the years, corn's usage as alcohol for fuel has risen steadily.
Corn farming
Corn is planted between April and June. It's harvested between October and November. Corn accounts for about 28% of the acres used to plant principal crops in the US. About 90 million acres were used to plant corn. Of this, 83 million acres were harvested with about 92% output. The remaining 8% resulted from harvesting loss.
Next, we'll look at the second most important crop for the US—soybeans.