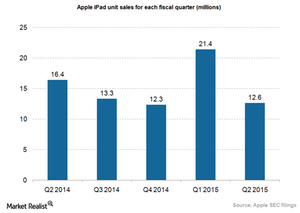 Apple Improves iPad Multitasking Feature with iOS 9 Release
Apple introduces multitasking feature for iPad
Previously in this series, we discussed Apple's (AAPL) announcement at the Worldwide Developers Conference with respect to its new Mac operating system release and the improved Spotlight search feature. Apple also announced its iOS 9 release, upgrading its operating system for the iPhone and iPad. The most notable of iOS 9's enhancements is its improved multitasking functionality for the iPad. This upgrade allows users to navigate seamlessly from one app to another.
Article continues below advertisement
This was an important enhancement for Apple, as tablets based on Microsoft (MSFT) Windows and Google's (GOOG) Android operating system already had a multitasking feature. Plus, Apple's iPad business continues to show negative growth. Apple sold only 12.6 million iPads in fiscal 2Q15, compared with the 16.4 million units that it sold in fiscal 2Q14, as the chart below shows.
Why Apple's iPad business is slipping
While announcing the fiscal 2Q15 earnings, Apple acknowledged that its iPad business is being cannibalized by the iPhone on one end and Mac products on the other end. Apple also noted that the iPad's performance was muted in most of its markets, except Japan (EWJ) and China.
In our February 2015 article Apple and Samsung hit by holiday drop in the tablet market, we discussed how low-cost tablets running the Android operating system are gaining share in the tablet market at the expense of Apple and Samsung.
In addition to these enhancements, Apple is optimistic about its partnership with IBM (IBM), which it anticipates will help boost iPad's penetration in enterprise use. Apple is already seeing results from its partnership with IBM.