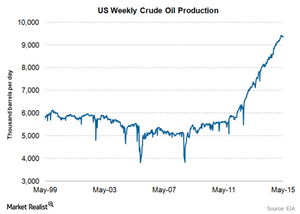 War Begins in the Crude Oil Market
US crude oil production
The EIA (U.S. Energy Information Administration) reported that weekly crude oil production the US increased by 5,000 bpd (barrels per day) to 9.37 MMbpd (million barrels per day) for the week ending May 8. Weekly US crude oil production increased for the second time in the last five weeks.
In regards to the US drilling activity, Baker Hughes (BHI) reported that active oil rigs declined by eight to 660 for the week ending May 15. This is the slowest decline in the rig count in the last 23 weeks. Upstream players like Noble Energy (NBL), Occidental Petroleum (OXY), and Carrizo Oil & Gas (CRZO) raised their crude oil production outlook for 2015.
Article continues below advertisement
Crude oil supplies from the lower 48 states in the US also increased to 8.87 MMbpd for the week ending May 8. They increased for the first time in the last month. WTI (West Texas Intermediate) oil prices are trading 22% more than the lows in February. This will also support more drilling and production activity.
US versus OPEC
According to IEA (International Energy Agency) sources, US crude oil production for April 2015 was at 12.6 MMbpd. The US crude oil output was down by 25,000 bpd from the previous month. In contrast, OPEC (Organization of the Petroleum Exporting Countries) counterparts like Saudi Arabia and Iraq produced 10.31 MMbpd and 3.66 MMbpd, respectively, in April 2015.
According to Iran's oil ministry sources, Iran could produce 3.8 MMbpd within six months of lifting the oil sanctions. In April 2015, Iran produced 2.87 MMbpd, according to Bloomberg sources. This shows massive crude oil production from OPEC for the year ahead.
The US isn't behind. The EIA's Annual Energy Outlook in 2015 estimated that US crude output will be at 10.6 MMbpd in 2020. The current high oil prices will also drive shale oil producers to produce more in the near term. The Russian counterpart produced 10.71 MMbpd of crude oil in April 2015 and it will continue to produce more. So, with massive oil production, what will happen to the crude oil prices?
Oil and gas ETFs like the Energy Select Sector SPDR Fund (XLE) and the SPDR Oil and Gas ETF (XOP) moved in the opposite direction of WTI crude oil prices and gained slightly in yesterday's trade.