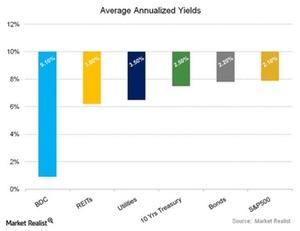 Understanding Business Development Companies
By Arthur Penn

May. 20 2015, Updated 9:07 a.m. ET
What are BDCs?
BDCs (business development companies) are a form of publicly traded private equity fund that provide investors liquidity due to being listed on the public stock exchanges. Several BDCs like Hercules Technology Growth Capital (HTGC) and Ares Capital Corporation (ARCC) have been quite successful at spotting the "next big thing" in the tech world. BDCs have a very specific focus on middle market companies, or companies that are in the $100 million to $1 billion valuation range with ultra-growth potential.
Article continues below advertisement
Unlike private equity funds, which raise capital in the form of limited partnership units from institutional investors, BDCs invest capital that they raise from a wide range of sources, including long-term debt (senior secured corporate bonds), convertible debt, or other hybrid securities and equity. BDCs are high yield investments where the bulk of their cashflows are distributed to underlying investors.
Why investing in BDCs is a lucrative investment option
BDCs are taxed as regulated investment companies under the Internal Revenue Code. Thus, they pay little or no corporate taxes so long as they meet some of the income, diversity, and distribution requirements. On average, BDCs distribute 98% of their taxable income to avoid all corporate taxation.
As per the Wall Street Journal, the historical average yield of BDCs over the past ten years has been 9.1%. Transformed in dollar terms, this signifies that if an investor bought $100 worth of BDC shares, on average, the investor would have obtained $9.10 per year. The yield of BDCs is significantly higher than the yields of other classes of publicly traded investments, such as utilities and REITs with an average yield of 4%, ten-year Treasuries with an average yield of 3%, or the S&P 500, which has averaged a ~2% yield.
BDCs are subject to certain risks. First of all, BDCs employ leverage in their financing activities, which may lead to increased return on investment, but can also contribute to heightened losses when an investment fails to generate a return. Secondly, BDCs are subject to liquidity risk within their portfolio as the companies BDCs invest in are privately held, and therefore have no liquidity. Lastly, BDCs are subject to interest rate risk, as they borrow and lend money at variable interest rates.
Some of the liquid real estate ETFs are CBL & Associates Properties (CBL), Toll Brothers (TOL), the iShares US Real Estate ETF (IYR), and Forest City Enterprises ( FCE.A).