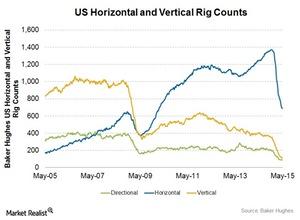 Could Drop in Horizontal Rigs Indicate a Slowing US Shale Boom?
Horizontal rig count is down
According to oil service company Baker Hughes (BHI), the horizontal rig count fell by seven in the week ended May 15, 2015, compared to the previous week's count. This represents 25 weeks of consecutive decline. In the 12 months ended May 15, 2015, the number of horizontal rigs in operation fell by 558.
Currently, there are 685 active horizontal rigs, 687 fewer than the record high of 1,372 reached on November 21, 2014. This represents a 50% decline. Horizontal rig counts repeatedly set and broke new records throughout 2014.
The number of vertical rigs in operation was unchanged at 114 last week. In the 12 months ending May 15, 2015, the number of vertical rigs fell by 290.
Article continues below advertisement
Horizontal rigs are used more for unconventional reserves
At the end of April 2015, the horizontal rig count was still up by ~118% compared to the count in January 2007. During the same period, the number of active vertical rigs decreased by ~88%. The rise in the number of horizontal rigs occurred in tandem with the American shale boom. Unconventional, or shale, oil and gas reserves are tapped using a combination of horizontal drilling and hydrofracking. Vertical wells are typically used in conventional production.
Upstream energy companies such as Whiting Petroleum (WLL), Marathon Oil (MRO), and Carrizo Oil & Gas (CRZO) operate in the unconventional resource shales, where horizontal drilling is used extensively. A drop in horizontal rigs shows that these companies are slowing the drilling operations that drove the US shale boom.
Carrizo Oil & Gas accounts for 1.33% of the SPDR S&P Oil & Gas Exploration & Production ETF (XOP). Whiting Petroleum accounts for 0.4% of the iShares US Energy ETF (IYE).
Falling rig count also affects oilfield service companies
Oilfield service companies provide various drilling-related services and technologies. Falling drilling activity reduces oilfield service companies' revenues. Upstream companies push for cheaper contract terms or day rates in these situations.