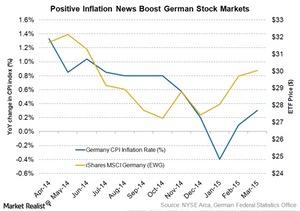 VGK and EFA up on Good Inflation News from Germany and France
By Surbhi Jain

Nov. 20 2020, Updated 3:56 p.m. ET
Stimulus helps inflation revive in the Eurozone
After moving out of its deflation zone last month, the Eurozone's strongest economy recorded yet another positive change in consumer prices in March. Rising wages in Germany have been a boon for private consumption. The weaker euro, tempered by the ECB's (European Central Bank) bond buying program, helped German exports. France also reported a revival in its inflation rate.
Article continues below advertisement
Inflation rate up in Germany and France
The German Federal Statistics Office came out with its final estimates for the inflation rate in March. It measures the inflation rate as annual changes in the CPI (consumer price index). In contrast, the US (SPY) Federal Reserve uses the PCE (personal consumption expenditure) index as its preferred gauge. According to the report, consumer prices in Germany were up by 0.3% YoY (year-over-year) in March—compared to a 0.1% rise in the previous month. Month-over-month, consumer prices rose by 0.5% in March.
The INSEE (National Institute of Statistics and Economic Studies) in France also came out with its inflation rate reading for France. It recovered to -0.1% in March—compared to the -0.3% recorded in February.
European stock markets gain on positive indicator readings
The news was received positively by broader Eurozone-tracking ETFs like the Vanguard FTSE Europe ETF (VGK) and the iShares MSCI EAFE (EFA). They gained 0.14% and 0.26%, respectively.
German stocks, listed in the US, advanced on April 16 due to positive inflation news from the region. Aixtron SE (AIXG) advanced 1.08% and Daimler AG (DDAIY) gained 0.09% on April 16. VGK tracks European equity market performance. VGK gained 0.14%. The iShares MSCI France (EWQ) was up 0.19%. However, Deutsche Bank AG (DB) lost 2.70%, while SAP SE (SAP) and GlaxoSmithKline Plc (GSK) were down 0.63% and 0.40%, respectively.
It looks like the ECB's (European Central Bank) recently launched 60 billion euro QE (quantitative easing) program, meant to ward off deflation and boost economic growth across the Eurozone, is having the desired effect! Read Can 60 billion euros a month turn Eurozone indicators positive? for a detailed analysis of Eurozone indicators and the ECB's stimulus program.
Stay updated on the US (SPY) (IVV), Eurozone, and the world macro environment by visiting Market Realist's Macro ETF Analysis page.