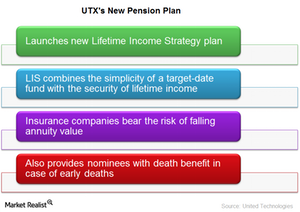 UTC Is Revolutionizing Its Employee Pension Plan
By Ally Schmidt

Apr. 8 2015, Updated 4:06 p.m. ET
A look back at UTC's pension plans
United Technologies Corporation (UTX) forms 0.54% of the holdings of the iShares Core S&P 500 ETF (IVV). UTC followed a traditional FAE (five-year average earnings) pension plan until the dot-com bubble burst and led to a market collapse in 2002.
In 2003, UTC shifted to a cash balance employee pension plan. But the financial crisis that followed caused the company's pension fund to take a sharp blow. After 2003, the company started offering its new employees a hybrid-defined benefit cash pension plan.
Article continues below advertisement
New pension plan launched
Robin Diamonte, UTC's chief investment officer, wasn't satisfied with the plans the company had offered its employees. Diamonte worked to restructure the plan to form a new lifetime income strategy for UTC employees.
UTC is the first company to partner with AllianceBernstein to provide a secure lifetime income default option within the company's defined contribution (or DC) plan. This new lifetime income strategy (or LIS) combines the simplicity of a target-date fund with the security of lifetime income, guaranteed by insurance companies such as Prudential (PRU) (PUK), Nationwide, and Lincoln Financial.
PRU forms 6.47% of the holdings of the iShares U.S. Insurance ETF (IAK). American International Group (AIG) forms its largest holding of 13.53%.
The LIS program preserves freedom and flexibility while offering employees security and certainty. The program is individualized according to the employee's birth date. It's designed to protect employees from the impact of market volatility on retirement income and also provide opportunity for growth.
Benefits of the new plan
In the company's new LIS plan, money is invested in equities and bonds until an employee reaches the age of 48. After that, the assets are gradually transferred to fixed-income funds until the employee reaches the age of 60.
All employees at UTC are automatically enrolled into the LIS at a contribution rate of 6%. An auto-escalation feature then raises the rate to 10% by the time employees have completed five years at the company, depending on their ages.
The company's annual contributions total more than 16% of pay, moving up to 19% as employees age. If the employee's annuity value falls at retirement, the monthly payout will be based on the higher amount with the insurance company bearing the risk.
Unlike other pension schemes, if a retiree dies before the face value of the annuity is exhausted, the beneficiary can get part of the remaining amount as a death benefit.