Hollywood Writers Strike to Demand Higher Pay — So, How Much Do TV Writers Make?
A Hollywood TV writer seems like a glamorous job, but the paychecks are relatively low despite high company profits. So, how much do TV writers make?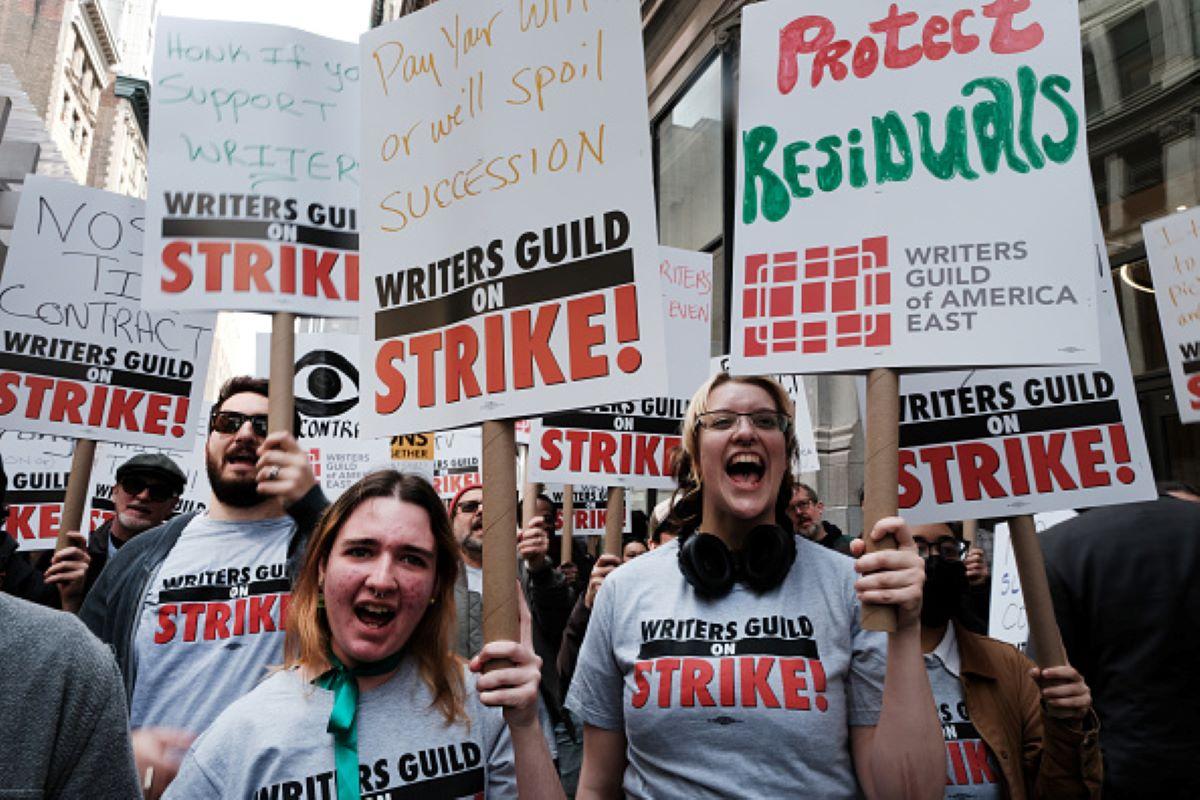 Hollywood film and television writers went on strike in early May 2023 to demand higher pay, causing late-night TV shows to shut down as members of the Writers Guild of America (WGA) picketed in New York and Los Angeles.
Article continues below advertisement
Article continues below advertisement
The strike began a minute after the WGA's contract with the Alliance of Motion Picture and Television Producers expired and the guild said even though company profits remain high and spending on content has grown, the move to streaming services has become an excuse to cut writers' pay.
While being a Hollywood writer may seem like a glamorous job, the paychecks are either tiny or very large, and the money has to last writers through downtimes as they wait for their next big hit. So, how much do TV writers make?
Article continues below advertisement
How much do TV writers make?
There's a large pool of screenwriters in Hollywood, and as a dream job, they were willing to start out making pennies to chase their dreams. But with the current state of the economy, inflation, and the threat of a recession, screenwriters simply can't keep up, and after a certain age, they can no longer play the role of a starving artist.
TV screenwriters are paid the industry rate. If they're a Writers Guild of America member, they are protected. And while TV writers are paid well, the pay scales are complicated, and the minimum and maximum rates vary depending on the length of the show, network, streaming service, or how much of their writing makes it onto the show.
According to salary.com, the average base salary in 2023 for a TV writer in the U.S. is $68,052 per year, but the salary ranges from $55,747 to $87,077.
Article continues below advertisement
Article continues below advertisement
How much do Netflix writers make?
According to Glassdoor, the average total pay for a writer at Netflix is $100,195 per year, and the salary range falls between $76,000 and $135,000. The estimated base pay is $73,999, and the additional pay could include things like a bonus, stocks, commission, profit sharing, or tips.
What factors impact TV writer earnings?
Writers earn payments when something they've worked on is either broadcast or streamed. And while broadcast residuals are much higher than streaming, with streaming, the writers get a set amount no matter what happens with a show, but if a broadcast TV show is a bigger hit, the writers may make more from residual payments.
Other factors that impact a screenwriter's salary include:
Article continues below advertisement
Type of screenwriting: If a writer produces feature-length or television screenplays that appeal to a large audience, they might be able to sell their work for more money. Meanwhile, screenwriters who write short screenplays or stories might sell them for less.
Project size: The bigger film projects with large budgets may pay screenwriters a bigger portion of the profits, while a commercial or video may have a smaller budget and pay writers less.
Article continues below advertisement
The Writers Guild of America: The WGA is a labor union that represents writers, including screenwriters. Members are guaranteed a minimum payment to make sure they receive fair compensation.
Trends: Salaries vary by year, and there may be a greater need for a certain type of screenplay or story based on current trends. A bigger demand for a storyline or screenplay means more money.
Company: If you work for a larger production company, you may earn more than a freelance writer with few clients.
Article continues below advertisement
How hard is it to get a TV writing job?
Becoming a TV writer is very competitive, and to get noticed, you'll need talent, perseverance, thick skin, and good luck. You may also need to move to NYC or Los Angeles to get access to these jobs, and of course you'll need samples of your most amazing work to be considered.
To get started, go to school for TV writing, apply to be an assistant at a local station, or hope you get noticed for something you wrote independently — such as an original pilot or a screenplay that you can pitch to showrunners or producers.
Since these jobs aren't listed publicly, you'll need to network and cold-call or email production companies and ask to be put on a list when there's an opening.
Article continues below advertisement
Article continues below advertisement
What are the requirements to become a TV writer?
To become a TV writer, you'll need raw talent and a background in screenwriting... or a degree in film production, creative writing, fine arts, or screenwriting. Or you could pitch a script or screenplay that catches the eye of an agent or producer and get lucky!
Some of the most in-demand skills for television writers include:
Being social: A people person who enjoys watching, studying, dissecting, and interpreting human behaviors.
Imaginative: Creating storylines and plots requires imagination. Whether you work on fantasy or a crime show, you need imagination to create characters, scenarios, and conversations.
Communicator: Since you'll work with producers, directors, actors, and other writers, you'll need excellent communication skills to explain ideas, script changes, and plot twists.
Observant: TV writers are observant, and awareness of interactions and conversations can turn them into plot lines.