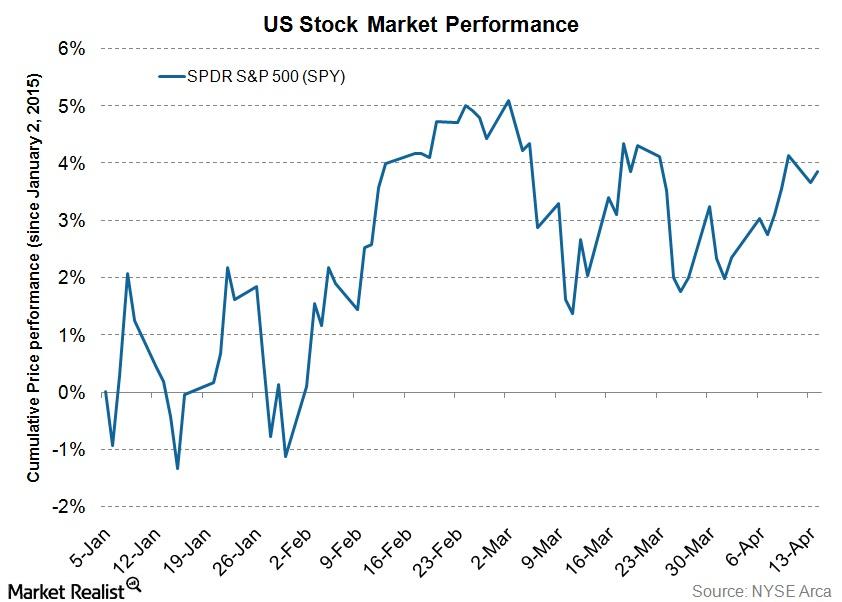 US Stock Market up 0.19% – WFC, JPM, and JNJ Beat Estimates
By Surbhi Jain

Apr. 15 2015, Published 10:03 a.m. ET
US stock market gained
April 14 saw the US stock market, as measured by the SPDR S&P 500 ETF (SPY), gain 0.19% as financials beat expectations on the earnings front.
Wells Fargo (WFC) reported a $1.04 EPS (earnings per share) against Wall Street's expectations of $0.98 per share. JPMorgan Chase (JPM) also exceeded market expectations of $1.39 by reporting an EPS of $1.45 for its fiscal quarter ending March 2015.
The Financial Select Sector SPDR ETF (XLF) tracks the financial sector in the US. XLF opened at $24.31. It touched a high of $24.39 during the day, but closed flat at $24.33 on April 13.
Other financial sector firms that are due to release their earnings today, April 15, are Bank of America (BAC), U.S. Bancorp (USB), and PNC Financial Services Group (PNC). The consensus EPS forecast for these firms stands at $0.29, $0.76, and $1.71, respectively.
Article continues below advertisement
US financial firms effectively hedged their foreign exchange exposures.
The US financial sector proved its strength again by reporting positive surprises on the earnings front, despite being battered down by the currency wars. These firms have substantial foreign exchange exposure. The appreciation of the US dollar (UUP), and the corresponding currency depreciation in other countries, has been impacting the firms' foreign revenue. However, the earnings releases beating estimates seem to suggest that US companies hedged their foreign exchange exposures well.
Intel met and JNJ beat expectations
Other sectors that are bearing the brunt of the currency warfare are the technology and consumer sectors. Technology companies met expectations. Intel (INTC) reported earnings at $0.38 against expectations of $0.40 on April 14. Linear Technology (LLTC) reported earnings at $0.50 against an expected $0.53.
On the consumer front, Johnson & Johnson (JNJ) beat earnings expectations of $1.54 for the fiscal quarter ending March 2015. It reported an EPS of $1.56.
While the earnings report was a key positive for the US markets on April 14, the spotlight was also shared by an economic indicators report that brought good news for producers, retailers, and the US economy at large.