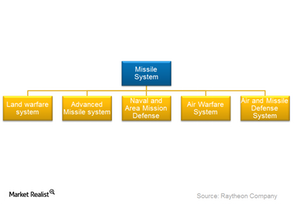 A Look at Raytheon's Missile Systems Segment
By Ally Schmidt

Updated
About the segment
Raytheon's (RTN) Missile Systems segment, headed by Taylor W. Lawrence, is headquartered in Tucson, Arizona. This segment specializes in the development, production, and support of missile and combat systems such as airframes, advanced weapon systems, guidance and navigation systems, surveillance, high-resolution sensors, netted systems, and targeting.
The segment produces these systems for national armed forces such as the U.S. Navy, U.S. Army, U.S. Air Force, U.S. Marine Corps, and the Missile Defense Agency. It also produces the systems for more than 40 allied nations.
Article continues below advertisement
Capabilities
Let's take a look at the key capabilities of Raytheon's Missile Systems segment.
Land Warfare Systems (or LWS) – LWS provides mobility, power, and situational awareness to fighters by its range of precision-guided rockets, precision missiles, advanced electro-optical (or EO) /infrared (or IR) sensors, antitank weapons, multisensor systems, and advanced landing weapons systems.
Advanced Missile Systems (or AMS) – AMS develops and introduces new and advanced weapons, nonkinetic weapons, and force protection solutions.
Naval and Area Mission Defense (or NAMD) – NAMD provides ship defense systems, including a full range of missiles, launcher systems, and close-in weapons systems. It also works to protect land bases and high-value infrasites from terrorist threats.
Air Warfare Systems (or AWS) – AWS provides weapons and munitions to fight air- and ground-based threats. Some key programs are the Tomahawk cruise missile, the AMRAAM (Advanced Medium-Range Air-to-Air Missile), the SDB II (Small Diameter Bomb II) air-to-ground glide weapon, the HARM (high-speed antiradiation missile), and the JSOW (Joint Standoff Weapon) air-to-ground weapons with GPS (Global Positioning System) guidance.
Air and Missile Defense Systems (or AMDS) – AMDS provides air defense and ballistic missile defense interceptor systems. It provides development, manufacturing, and support to its other systems for the U.S. Navy, the MDA, and some international customers.
Performance 2014
The year 2014 saw declines in both sales and income for Raytheon's Missile Systems segment. Sales declined from production declines of land warfare systems programs due to budget cuts. This also led to lower operating income for the year, while margins remained almost consistent. However, on a positive note, the segment saw strong booking growth during the year.
Raytheon forms a 1.22% holding of the iShares U.S. Industrials ETF (IYJ) and a 1.82% holding of the Industrial Select Sector SPDR (XLI). Other companies included in IYJ are United Parcel Services (UPS), Accenture (ACN), and Danaher (DHR), which have 2.57%, 2.05%, and 1.91% holdings, respectively, in the ETF.
Next, we'll look at Raytheon's Space and Airborne Systems segment.