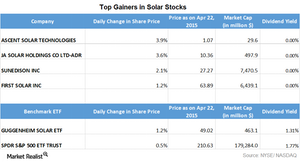 The Guggenheim Solar ETF Extends Its Gains on April 22
By Mike Sonnenberg

Nov. 20 2020, Updated 5:01 p.m. ET
Solar ETF gains
The Guggenheim Solar ETF (TAN) extended its gains by 1.2% on April 22. American solar stocks account for 47% of the fund's holdings, while Chinese solar stocks account for another 44%. Hanergy Thin Film Power Group is the biggest holding of the fund with a weight of just over 11%. The broad based SPDR S&P 500 (SPY) gained 0.5%.
Article continues below advertisement
Top gainers
Ascent Solar Technologies (ASTI): Colorado-based ASTI gained 3.9% to end at $1.07 with a market capitalization of $29.6 million. The company manufactures thin-film photovoltaics.
JA Solar Holdings (JASO): American Depository Receipts (or ADRs) of JA Solar (based in China) gained 3.6% on NASDAQ to close at $10.36 with a market capitalization of $497.9 million.
SunEdison (SUNE): SUNE, an American provider of solar power plant products and services, gained 2.1% to $27.27 with a market capitalization of $7.5 billion.
FirstSolar (FSLR): FSLR, a leader in thin film technology, gained 1.2% to $63.89 with a market capitalization of $6.4 billion.
Yingli Green Energy
ADRs of Yingli Green Energy lost 5.1% to end the day at $1.87 with market capitalization of $339.9 million. Yingli Green Energy is a Chinese manufacturer of photovoltaic cells and modules. YGE ADRs have lost over 20% since the beginning of 2015. The ADR is trading at a near 52-week low of $1.75. The company's 52-week high is $4.52.