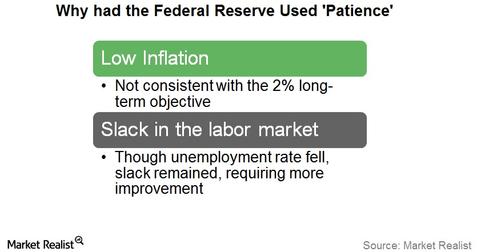 Why It Matters that the FOMC Removed 'Patience' from Its Guidance
By David Ashworth

Updated
'Patience' removed
In Market Realist's earlier series analyzing the monetary policy statement released by the FOMC (Federal Open Market Committee) on March 18, we highlighted why the word "patience" had been dropped from the statement.
The minutes of that meeting, released on April 8, said that "almost all participants favored removing from the forward guidance in the Committee's postmeeting statement the indication that the Committee would be patient in beginning to normalize the stance of monetary policy."
Article continues below advertisement
Assessment of this move
While explaining the use of "patience," the Fed chair, Janet Yellen, had said that the FOMC didn't see economic conditions being robust enough to increase the federal funds rate, known as "liftoff," in at least the next two meetings.
The FOMC's move of dropping "patience" from its language was a highly anticipated one, and it came on the back of strong economic indicators. These indicators made both market participants and most policymakers more confident, so the Fed no longer felt it needed to continue using this term. Several participants saw this move as opening the doors on a June 2015 rate hike. But was that the Fed's motive?
Why was "patience" dropped?
With all things looking up, policymakers had little reason to continue using the word. But more importantly, dropping the word gave them flexibility. Dropping "patience" means that there is no timing attached to policy action anymore, not that the Fed had desired to attach a timing to the rate hike in the first place. But most market participants were reading "patience" along with the "next two meetings" phrase as a condition.
The Fed would have wanted to free itself of this burden of timing. Now, if data warrants, the Fed can move quickly towards a rate hike. If it doesn't, they can stay where they are and point market participants to the weak economic pointers as a reason not to change the rate.
While equities (IVV) and Treasuries (TLT) had rejoiced on this change of language, the US dollar had tanked. Energy-related stocks like Chevron Corporation (CVX), ConocoPhillips (COP), and ExxonMobil (XOM) were the biggest gainers on March 18 as crude oil prices had risen due to a fall in the dollar.
Now, let's take a look at the economic indicators that the FOMC minutes discussed. We'll start with economic growth.