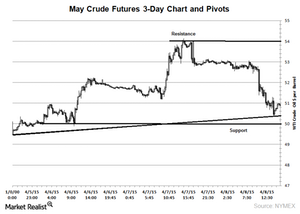 Crude Oil Production: Increase Continues from the Top 3 Oil Producers
By Gordon Kristopher

Updated
Huge production consensus
Saudi Arabia is one of the largest crude oil producers. It continued its massive oil production in March 2015. Crude oil output was at 10.3 MMbpd (million barrels per day). Production was at a 12-year high. Saudi Arabia isn't in a mood to cut production—it anticipates improved demand for oil. Currently, it's expected to produce 10 MMbpd, according to oil ministry sources. This is 10% of the world's crude oil demand per day.
Article continues below advertisement
Like Saudi Arabia, the US will also be pumping massive crude oil. EIA (U.S. Energy Information Administration) sources say that US crude oil production will average around 9.23 MMbpd. For the US, this is the highest production in the last 42 years. Russia produced 10.71 MMbpd in March 2015, according to the Russian Ministry of Energy. This means that the countries' production is equal to 32% of global production.
The rise in oil production from these three countries and from countries like Iran will add to the crude oil glut. After lifting oil sanctions, Iran could add 500,000 bpd (barrels per day) to the world production. It also has 30 MMbbls (million barrels) of crude oil inventories.
Massive production, weak demand, and high inventories are good for the oil tanker market. Oil transporting companies—like Tesoro (TSO), Teekay Tankers (TNK), DHT Holdings (DHT), and Nordic American Tanker (NAT)—will benefit from rising inventories. The high inventories utilized almost 60% of US storage facilities, according to EIA sources. This means oil companies could store oil in supertankers or oil traders and buyers could use the contango market for storing oil.
In contrast, the strong dollar and huge inventory will likely put pressure on the psychological levels of crude oil. The key support is at $46 per barrel. Prices hit this mark multiple times in 2015. Bullish traders could see resistance at $54 per barrel. Oil prices hit this mark on April 7, 2015.
Oil prices are trading above their 20-day moving average. However, these prices are below the 50-day moving average of $50.56 per barrel. The RSI (relative strength index) is at overbought territory. Prices generally fall from these levels.
The massive inventory dragged WTI oil lower. It also dragged oil ETFs lower—like the ProShares Ultra DJ-UBS Crude Oil (UCO). The Energy Select Sector SPDR ETF (XLE)—an energy ETF—was also down marginally.