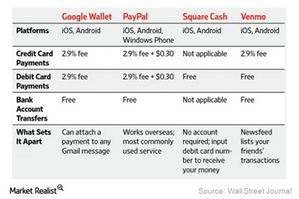 Apple Pay Is about to Face Serious Competition from CurrentC
By Anne Shields

Nov. 20 2020, Updated 5:16 p.m. ET
CurrentC – a new mobile payment solution
As we saw earlier in this series, the mobile payments space is generating significant interest. All of the leading technology players—Apple (AAPL), Google (GOOG), and eBay (EBAY) are present in this space. Microsoft (MSFT) is the latest to join the queue in the mobile payments space.
According to a study by Macworld on April 6, 2015, CurrentC—a retailer-owned mobile payment system backed by MCX (Merchant Customer Exchange)—is expected to hit markets by mid-2015.
Article continues below advertisement
CurrentC generated a lot of interest in October 2014 when its backer MCX members—Walmart (WMT), Rite Aid (RAD), and CVS (CVS)—decided not to accept Apple Pay so they could focus on CurrentC. MCX has 45 member companies, including some top US retailers. MCX's mission is to avoid paying 2%–3% credit card fees to companies, like Visa (V), with every transaction.
The above chart, as published on the Wall Street Journal, shows a comparison of various features of four apps—Venmo, Google Wallet, PayPal, and Square Cash—available in the mobile payment space. To gain diversified exposure to Apple, you can invest in the iShares US Technology ETF (IYW). IYW invests about 20.65% of its holdings in Apple.
CurrentC relies on barcodes rather than NFC technology
Apple Pay uses NFC technology. In contrast, CurrentC employs barcodes because MCX believes that barcodes are used more extensively. According to the South China Morning Post, Apple Pay accounts for approximately two-thirds of all US mobile payments.
According to Macworld, with CurrentC a user directs their phone camera at a one-time barcode shown on a retailer terminal to initiate the payment. The payment happens using an already registered bank account so that no payment information is shared. MCX is also testing a CurrentC version based on Bluetooth.