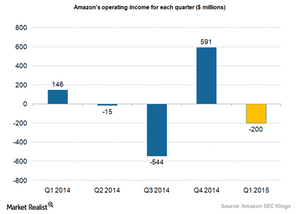 Amazon Could See Yet Another Operating Loss in 1Q15
Amazon's tendency to invest heavily drives its operating loss
In the previous part of this series, we discussed how Amazon's (AMZN) revenue growth could slow in 1Q15. Amazon expects an operating income of between -$450 million–$50 million in 1Q15. This means Amazon will most likely take another operating loss in the first quarter. At the midpoint of operating income, Amazon could make an operating loss of $200 million in 1Q15.
Part of the cause for Amazon's declining operating margins goes to its tendency to invest heavily, especially in international markets. For example, a few months back, Amazon announced that it will invest $2 billion in the Indian (EPI) e-commerce market.
Another reason for its declining margin is the company's tendency to invest in new fields where it doesn't have any prior experience. For example, Amazon introduced its Fire smartphone last year, which failed miserably.
Article continues below advertisement
Amazon benefited from a busy holiday season in 4Q14
The above chart shows that Amazon's operating profit in 4Q14 was more of an aberration than a sign of revival. In 4Q14, Amazon's operating income got a boost from the leverage from its revenue growth during the holiday season.
The holiday season is generally the busiest period for retailers. Although Amazon didn't announce many details on how the holiday season went, Walmart (WMT) announced that this past Thanksgiving was its second-biggest day ever for online sales. Similarly, Target (TGT) mentioned that Thanksgiving was its biggest online day ever. Best Buy (BBY) faced some issues with its website, which crashed repeatedly due to a huge surge in mobile traffic.
Amazon received the benefit of the busy holiday season in 4Q14. However, there will be no such benefit to Amazon in 1Q15.