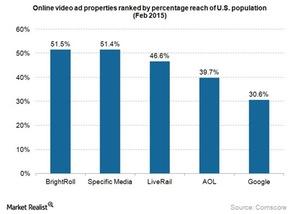 Yahoo's Acquisition of BrightRoll: A Boon for the Company
By Patricia Garner

Dec. 4 2020, Updated 10:52 a.m. ET
BrightRoll benefits Yahoo
Video is an important growth area for Yahoo (YHOO). It's important as Yahoo looks for ways to reinvent its core business or legacy display business for the future. Video is an essential platform on which advertisers can deliver their messages to relevant customers.
In December, Yahoo completed its acquisition of BrightRoll for ~$640 million in cash. The transaction combined Yahoo's premium desktop and mobile video advertising inventory with BrightRoll's programmatic video platform and publisher relationships.
BrightRoll is the industry's leading programmatic video advertising platform. It reaches audiences across desktop, mobile, and connected TV. You can read more about this deal in Market Realist's article Yahoo completed the acquisition of BrightRoll.
The acquisition of BrightRoll put Yahoo in a leadership position across the video advertising industry.
Article continues below advertisement
According to comScore, BrightRoll served more video ads and reached more consumers in 2014 than any other platform. During the earnings conference call, Yahoo's management said that BrightRoll powers digital video advertising for the world's largest brands and agencies. That includes 87 of the Advertising Age top 100 US advertisers, all of the top 15 advertising agencies, and all ten of the leading demand side platforms.
BrightRoll is a fast growing business with net revenues exceeding $100 million last year and solid growth expected this year.
BrightRoll dominates online video ad market
As the above chart shows, BrightRoll and Specific Media are the top players in the online video ad market. It's interesting to note that Yahoo's December acquisition of BrightRoll made Yahoo (YHOO) grab some share of the market. AOL (AOL) and Google (GOOG) rank fourth and fifth.
Yahoo's peers in the video ad space also completed acquisitions to boost their video ad share. Facebook (FB) acquired LiveRail to leverage the fast-growing video ad market. LiveRail is an online video advertising platform. It helps customers to efficiently monetize their video inventory. Last year, Google launched its Partner Select program to expand its video business beyond YouTube.
To gain diversified exposure to Google and Facebook, investors can consider the iShares U.S. Technology ETF (IYW). Google and Facebook together make up 14% of IYW's portfolio.