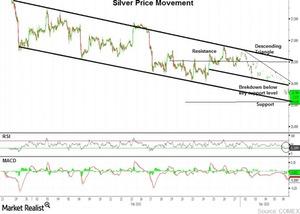 Will silver prices break below key support?
Silver price movement
April silver futures contracts broke below the important support level of $16 per ounce on March 6, 2015. Silver prices plunged lower due to a massive sell-off from stockists, traders, and jewelers on weak demand. The strong dollar also played a pivotal role in the decline of silver prices.
Article continues below advertisement
Pivot points for silver
Silver could test the next important support of $15.50 per ounce, which last occurred in November 2014. Market sentiments for silver are bearish, and bullish traders could see resistance at $16.50 per ounce levels. The resistance is formed by silver prices hitting this level several times in February 2015.
If we look at the silver chart, it replicates the downward price movement of gold. The charts suggest silver could move in a downward channel between levels of $15.50—$16.50 per ounce in the short term. However, a strong dollar will have a downward impact in commodities.
The RSI (or relative strength index) is in the oversold zone. Silver prices might rise due to these low levels of RSI. On the other side, MACD (or moving average convergence divergence) is showing that prices could fall lower.
Lower silver prices impact the margins of silver companies like Silvercorp Metals (SVM), Silver Wheaton Corp. (SLW), and Hecla Mining Company (HL). They also impact key silver ETFs such as the iShares Silver Trust (SLV) and the ProShares Ultra Silver ETF (AGQ).
For the latest updates, visit Market Realist's Gold ETFs page.