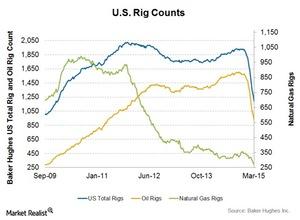 US rig count continues slide to lowest level since December 2009
By Alex Chamberlin

Updated
US total rig count
According to oilfield service company Baker Hughes (BHI), there were 1,192 active oil and gas rigs in the US during the week ending March 6, 2015. That count represents 75 fewer rigs than in the week ending February 27, the biggest drop in the past three weeks.
The US rig count generally experienced an uptrend in 2014, but that trend has reversed in the past three months. Thirteen consecutive weeks of falling rig counts show that US drilling activity is on a downturn. Last week also saw the 16th rig count decrease in the past five months.
After last week's drop, the US rig count dropped to its lowest level since December 12, 2009. The week's figures were led by a steep fall in the onshore rig count. Please read Part 6 of this series to learn more about the onshore rig count.
According to Baker Hughes, February's average rig count of 1,348 declined by 335 from January's average of 1,683. September's average rig count of 1,931 was the highest since July 2012.
Article continues below advertisement
Why were rig counts lower last week?
Last week's lower rig counts were mainly due to the number of crude oil rigs, a drop of 64 rigs. Natural gas rigs also decreased by 12, and one miscellaneous rig was revived last week. Read the next part of this series to see how a fall in oil prices triggered the decline in the oil rig count.
In the last year, the total US rig count has dropped by 600, or 34%. The number of oil rigs decreased by 521, or 36%. The number of natural gas rigs fell by 77, or ~22%. Total rig count increased by 40 for the corresponding period ending March 7, 2014.
Rig count trends show inclination to spend on drilling
Rig counts tell us how many rigs are actively drilling for oil and gas. Continuing drops in rig counts can be a good sign that demand and supply are nearing a balance. Rig counts also signal how confident producers are about the market for these products. Companies in the drilling environment include Chesapeake Energy (CHK) and Exxon Mobil (XOM). These companies are part of the Energy Select Sector SPDR ETF (XLE). Together, they account for 16.3% of XLE's total market capitalization.
Rig counts also indicate how busy oilfield service companies such as Schlumberger (SLB) and Halliburton (HAL) are at any given time. For more information on Schlumberger, please read An overview of Schlumberger's 4Q14 earnings.