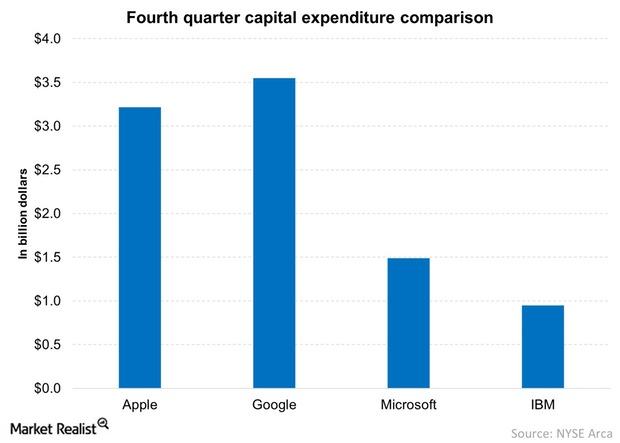 Tech Companies Likely to Benefit from an Improving Economy
Capex beneficiaries
Tech is also poised to reap the benefits of continued economic improvement. Capital expenditures (or capex), which is the investment in property and equipment by companies, is expected to increase for U.S. companies across the board. We anticipate that much of this investment will be used to upgrade corporate hardware, software and networking systems. On the consumer side, improving purchasing power, partly due to lower oil prices, may be a boon to companies like Apple (AAPL).
Article continues below advertisement
Market Realist – Tech companies could benefit from an improving economy
Usually, capital expenditure is the amount spent to acquire or improve long-term assets such as machinery or buildings. In the case of tech companies, it's a little different. The main assets of a tech company are human resources. So, capital expenditure for a tech company could involve money spent on innovation and R&D (research and development). It also includes funds spent on expanding the business, like with any other industry.
The graph above shows the total capex spent by Apple, Google (GOOG)(GOOGL), Microsoft (MSFT), and IBM (IBM). Google's capex in 4Q14 was highest at $3.5 billion. Apple's capex was $3.2 billion, a little less than that of Google. Microsoft and IBM invested $1.5 billion and $970 million in capex, respectively.
Capex in the tech sector has galloped along over the years, which is a good sign. An indicator of business sentiment, capex has otherwise been low across much of the economy in recent years, despite very low interest rates. Tech companies (QQQ) have used their excess cash well. Given their financial strength, these companies can afford more capex.
Lower oil (USO) prices mean consumers are saving at the pump and have more money to spend on other items. Consumer-oriented tech companies are certainly well positioned to benefit from this.