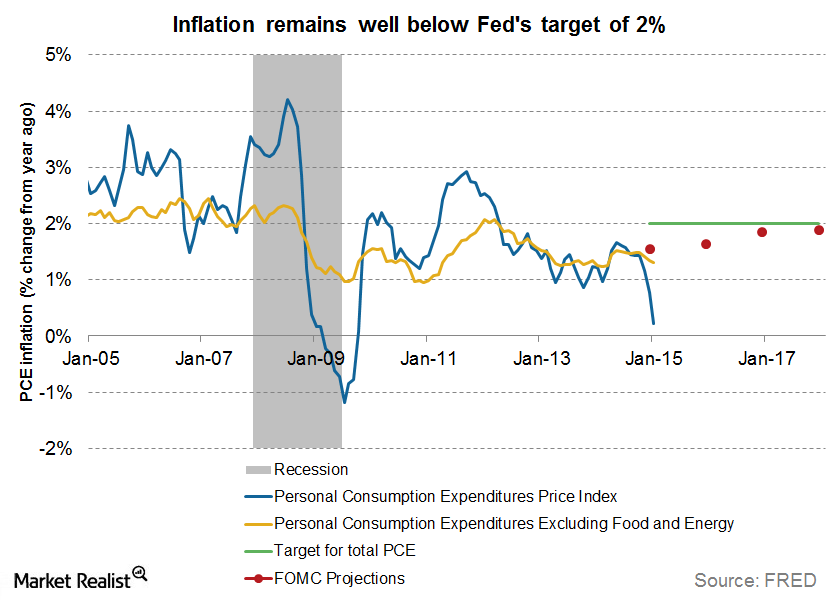 Still in a Rut: Soft Wage Growth Persisted in February
By Rick Rieder

Nov. 20 2020, Updated 5:17 p.m. ET
3. The other reason that the Fed has held rates steady at zero is that the economy has been running well below the Fed's inflation expectations—which has made wage growth a key data point for the FOMC's deliberations. Wage growth has been an ongoing point of weakness despite strong economic growth, and unfortunately, we saw only a slight improvement in wage growth in the February report.  Wage growth came in below consensus expectations at 0.1%. The year-over-year average hourly earnings now stands at 2%.
Article continues below advertisement
Market Realist– The trend of soft wage growth persisted in February. Wage growth hasn't been able to break out of its rut. It continues to stay at a year-over-year, or YoY, level of 2%. The average hourly wages for all employees only grew by $0.03—from $24.75 in January to $24.78 in February. The average hourly earnings for private sector production and non-supervisory employees stayed constant at $20.80. The previous graph shows the average hourly earnings for all employees over the past year and its growth rate.
If we look at the period between 2010 and 2014, private sector jobs increased by an impressive 10.5%. In contrast, average real wages only grew by 0.7% from 2009 to 2014. The recovery from the financial crisis (XLF) in 2008 won't be complete as long as soft wage growth persists.
Labor productivity needs to start rising for employees to start demanding better wages. According to the Bureau of Labor Statistics, the non-farm labor productivity declined by an annual rate of 2.2% in 4Q14. This is definitely a headwind for wage inflation.
The soft wage growth is largely keeping with the pace of inflation. Inflation has been subdued due to falling oil prices (USO) (BNO), among other things.
The Fed doesn't just look at job growth. It also has to focus on wage growth and stable prices. Inflation continues to stay below the Fed's target of 2%. The Fed uses the personal consumption expenditure price index as a barometer of inflation. The previous graph shows how inflation continues to remain under the Fed's target range.
The relation between wage growth and inflation is particularly important. The persistence of soft or no wage growth puts a dampener on consumer spending (XLY). This leads to low levels of inflation. Muted inflation leads to low producer spending and a low tendency to hike wages. As a result, the vicious cycle keeps repeating itself. Low inflation keeps prices muted for precious metals like gold (IAU) (GLD) and silver (SLV).
The persistence of soft wage growth and muted inflation is still a headwind that's deterring the Fed from hiking rates. In the next part of this series, we'll discuss the outlook for rising rates.